Athlete of the Week: Colleen Buckley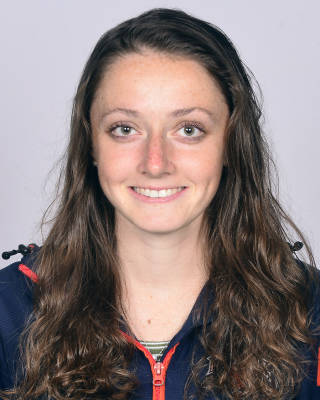 As the Bison captured their second consecutive indoor track Patriot League Championship Title, Colleen Buckley '19 was an integral part of the victory for the Orange and Blue.
"I feel so lucky to be able to have an impact and give something back to a team that has given me so much. Being on this team has given me a second family, and to be able to give some sort of repayment for that is a great feeling," Buckley said.
While Buckley's recent success is surely stand-out, this is nothing new for the five time All-Patriot League and two time All-East runner. Looking back on some of her favorite moments, Buckley remembers the team's victories over her own.
"The best moment of my season was most definitely watching Coach Donner walk across the infield at the Patriot League meet nodding and smiling, letting us know we had sealed the win," Buckley said. "The meet was really close, but the moment we saw that we had it locked up, the Bucknell section exploded. To win at home in front of our families, friends, and alum is really an unbeatable moment."
She emphasized how much she has truly loved being a part of the program for the Orange and Blue over the past three years. "My favorite part of my career here at Bucknell has been being a part of such a special program. The friends I have made and the memories I have made both on and off the track will most definitely last my entire life," Buckley said.
Despite all of her success and her love for her team, being an athlete at a prestigious university is not always an easy task. Buckley discussed the challenges that come with balancing life as a student athlete. "I think the biggest challenge of my career at Bucknell has been performing the balancing act of the student-athlete. I have taken a lot of class hours in my time here, and Bucknell has so much to offer outside the classroom environment that I want to participate in. However, in order to be the best I can be at my sport, I have to be willing to sacrifice time to take care of the little details."
Nevertheless, Buckley is committed to her sport more than ever as she starts to see the later part of her career approaching. "As a second semester junior, I am just starting to feel the ticking clock toward graduation. I'm looking forward to soaking in the next three semesters with my teammates, and I have some big goals set for the track seasons to come!"
Buckley and the Bison will next compete on March 3-4 in the ECAC Indoor Championships.
STATS:
5x All-Patriot League
2x All-East
Academic All-Patriot League (2017)
Holds the school record in the 5,000 meter (16:29.83)
(Visited 413 times, 1 visits today)