Athlete of the Week: Matthew McGoey '20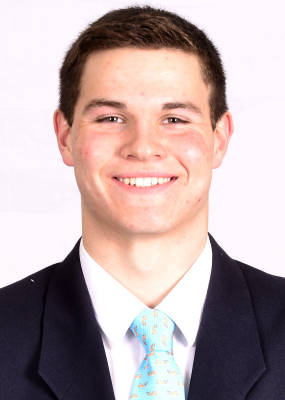 As the Bison men's swimming and diving team took on the ECAC Championships, Matthew McGoey '20 finished sixth place in the 200 backstroke race, helping the team finish ninth overall. McGoey's time of 1:49.75 was the eighth fastest time in school history, a feat he has been able to accomplish in only his second year in the pool for the Orange and Blue.
This season, McGoey was one of only two Bison men's swimmers to be recognized on the All-Patriot League Team, based on his strong performances at the League Championship meet. He recorded top-four times in the 200 IM (1:47.84), 400 IM (3:52.96), and 200 butterfly (1:49.38). He was also part of the 200 freestyle relay time that holds the second-fastest time (1:21.88) for that event in University history.
While his success throughout the season has been notable, McGoey remains humble as he reflects on his contributions.
"I'm honored to have any impact at all on this team. I'm just happy to give back to the team that's given me so many opportunities the past two years," McGoey said.
"The best moment of my season was winning the 'B' final in the 200 fly at Patriot League Championships" McGoey said.
"My favorite part of my career so far was beating Boston for the first time at Patriots," McGoey said, reflecting on his career as a whole. This team victory stands out to McGoey and has inspired him to keep pushing his team towards more titles in the future.
"I look forward to becoming an upperclassman on the team, and I look forward to our team continuing to prove doubters wrong," McGoey said.
Stats:
Program Records:
Program record in 200 IM
Fourth fastest time in the 400 IM
Fourth fastest time in 200 Butterfly
(Visited 368 times, 1 visits today)