Athlete of the Week: Tyler Smith '18, Wrestling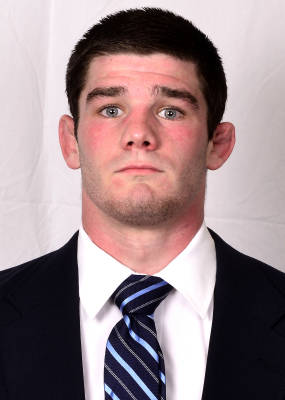 For the fourth year in a row and the final time in his career, Tyler Smith '18 will represent the Orange and Blue at the NCAA wrestling tournament. Reflecting on this feat, Smith said: "To be able to make an impact on my team and represent [the] University reminds me of how lucky and grateful I am to be part of such a prestigious university and represent myself, family, and team."
While his success on the mat in competition has been undeniable, Smith has a slightly less traditional "best moment" of his senior season. As opposed to identifying one single competition or accomplishment, Smith's love of the sport became evident when he reflected on wrestling as a whole.
"My best moment of the season so far happens everyday. Having the opportunity to do what I love everyday when I wake up makes me realize that it won't last forever. It makes me really enjoy the time I have left," Smith said.
Smith has seen remarkable success for the Orange and Blue over the course of his career. This season, Smith became the 11th wrestler for the Bison to reach 90 career wins, a testament of his dedication and outstanding performances. Among all of his victories, however, what stands out to Smith has been the support he has found along the way.
"My favorite part of my career has been being surrounded by people who want the best for me and providing guidance, encouragement, and a competitive environment that has allowed me to accomplish the things I have already done, but also strive for my ultimate goals as well," Smith said.
Amidst his success, Smith acknowledges that it is not always easy. "My greatest challenge throughout my career has been finding a way to compete at my best at the highest level, which is the NCAA tournament. I know that if I am wrestling my best I am one of the top guys in the country, but translating it into competition has been a challenge I have not yet fully done, which is why I have not met my ultimate goals so far in my career," Smith said. He reflected on how this challenge will play into his experience at the NCAA meet.
"Performing at the highest level at the right time is a challenge I have faced, but I believe I will overcome it this year at the NCAA tournament," Smith said.
Looking ahead, Smith will travel to Cleveland, Ohio on March 15 to compete in the NCAA Championships.
"I really want to end my career on the best note possible," Smith said. "My goal has been the same since freshman year, which is to win the NCAA title at 141 pounds and that is how I plan on leaving my legacy here."
STATS:
4-time NCAA qualifier
3-time EIWA placewinner
1-time team captain
(Visited 63 times, 1 visits today)