Behind the season of the 2018 Patriot League Champs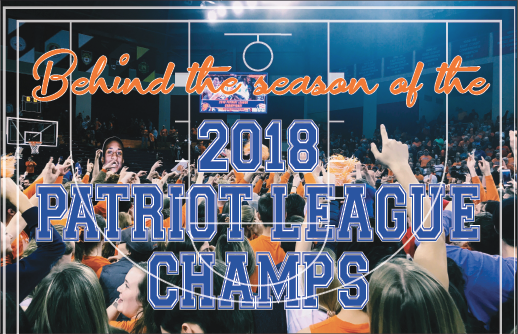 The Bison men's basketball team (24-9, 16-2 PL), under the leadership of a standout trio of seniors, has seen unprecedented success in the 2017-2018 season. On Mar. 7, the Orange and Blue took on Colgate for the Patriot League Tournament title, their league-leading 12th appearance in the championship contest. The Bison defeated the Raiders 83-54, securing their second-straight Patriot League Championship and their eighth March Madness appearance. Reaching the title game is an impressive feat in and of itself, and takes a season's worth of hard work. Here are some of this year's highlights.
The Class of 2018: The veteran senior class of Zach Thomas, Nana Foulland, and Stephen Brown are the first class in Patriot League history to win four straight outright regular-season titles, and the second class in league records to have three members reach the 1,000 point milestone. This year, Thomas also broke the program record for most points in a single season, previously held by Mike Muscala '13, who now plays in the NBA. Together, they average 51.1 points per game, accounting for 63.3% of the Bison's scoring output this season.
Patriot League news: Entering the season as the Championship favorites, the Orange and Blue have not disappointed. Thomas, Foulland, and Brown were all selected to the Patriot League First Team, the first time in League history that three teammates have all made the cut. Thomas was selected as Patriot League Player of the Year, following Foulland's reception of the honor in 2016-2017. Additionally, Foulland was chosen as the Patriot League Scholar Athlete of the Year.
National news: The Bison have not only caused a stir in the Patriot League, but also on the national scene. Perhaps most noteworthy are the team's two SportsCenter Top 10 appearances, one for a dunk from Ben Robertson '20 against LaSalle and one for a three-point buzzer beater against Colgate by Kimbal Mackenzie '19. At home in Sojka Pavilion, the Bison are 14-1, averaging 45.3 points per game in the second half, the ninth highest second half scoring output in the country. Individually, Thomas leads the NCAA in both free throws attempted (294) and free throws made (227) for 2017-2018.
(Visited 150 times, 1 visits today)