Athlete of the Week: Jamie DeWitt '19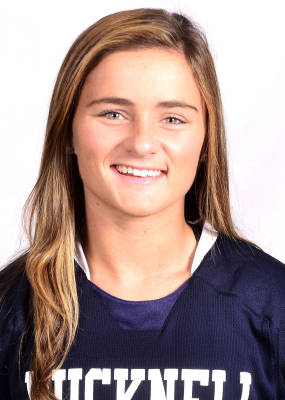 Now in her third year wearing Orange and Blue, Jamie DeWitt '19 has been a force to reckon with as the starting goalie for the Bison women's lacrosse team. After starting her junior campaign with a season-opening double overtime win, DeWitt's crucial saves have propelled the team to victory on multiple occasions.
"It feels really amazing to know I am able to compete in such a competitive league. My team is amazing and they really help build my confidence. Knowing I have their support and trust allows me to step out onto the field and play my best," DeWitt said.
In the two seasons that DeWitt has under her belt, she has started for the Bison in all but one game. In 2017 she ranked third best in the Patriot League and 25th nationally with her impressive goals-against average. For DeWitt, though, the best part of her career has gone beyond the statistics and personal performances. Reflecting on her experience with the Orange and Blue, she commented on the opportunities that being a member of this team has provided her.
"My favorite part has been traveling to Army and Navy to play in their stadiums. Playing in those stadiums is an experience and puts a lot into perspective," she said. "I am so proud to compete against people who are serving our country."
As she is now in the midst of her third season, DeWitt has already been awarded Patriot League Defensive Player of the Week for her overtime saves to open the season in a win versus Robert Morris. Once again, however, her favorite moment this season is not about her personal contributions; she proved her ability to truly think and operate as a team player when she commented on her team's performances as a whole.
"The best moment was the American game because it showed that we can put two full halves together as a team. We work so hard and that win felt really awesome. We are just trying to build off that win for the next patriot league games," DeWitt said. The Bison won that Patriot League matchup against American 15-9.
Of course, holding such an important position on the field does not come without difficulties.
"My biggest challenge has been mental toughness," DeWitt said. "Being a goalie can have mental challenges and I just always have to find new ways to stay focused, composed, and always positive. The team and coaching staff has done a great job of making that less challenging for me by always supporting me."
As she continues her career for the Orange and Blue, DeWitt is excited and has high hopes for the team moving into the future.
"I really want to help the team leave a lasting legacy and really would love to make it past the first round of Patriot Leagues," she said.
DeWitt and the Bison will be back in action on Saturday, when they take on Colgate at Graham field.
CAREER STATS:
.435 save percentage
10.88 goals-against average
323 saves (7.5 per game)
(Visited 424 times, 1 visits today)