Athlete of the Week: Will Sands '18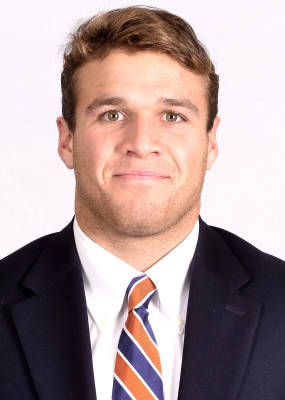 Will Sands '18 is in his final season for the Orange and Blue and second year as team captain of the Bison men's lacrosse team. While his success and drive have always been evident, his recent performances for the team have earned him a spot on the Midseason Third Team All-American roster published by "Inside Lacrosse."
"I have been very fortunate to have great coaches and teammates who allow me to have such an impact on the team," Sands said. "Everyone has an important impact on our success and what I think has been a huge reason for this is everyone doing their role. Whether you are a starter or a scout player, you have a huge impact on us winning and I have been super proud of our team for taking on that role."
Sands also attributed the recent success of the team to their grit and ability to overcome struggle. While it is certainly not an easy task, Sands has appreciated the challenge.
"I have really enjoyed the process of this season. Going through ups and downs helps build a team, and I have really enjoyed coming together with this team and fighting through adversity, which has lead to our recent success," Sands said.
Sands certainly stands out as an individual player. Over the course of his career with the Orange and Blue, he has become the fifth Bison to have over 100 assists, sixth to reach the 100 goal milestone, and third to join the 200 points club. Despite all of his personal success, Sands speaks with a team-oriented mindset.
"My favorite part of my career has been all the relationships I have made with my coaches and teammates. Each season has its own journey and I have really enjoyed building bonds and friendships with my teammates during my time. Big wins, tough losses, success, and adversity helps build these bonds, and that is extremely special and something that I will not let go unnoticed," Sands said.
"The greatest challenge in my career has been this entire year. After last season, we needed to change the team culture and be better in every single aspect of lacrosse and being a winning team," Sands said.
"Even though it has been a challenge, it has also been the most fun journey that I have been on in my four years. Our hard work that we put in to change this culture has been paying off but we aren't immediately satisfied, we need to continue to get better," he said.
The team's new approach has yielded positive results. The Bison are currently ranked 14th in the country and tied for first place in the Patriot League with a 5-1 record in conference and 7-3 overall. Sands and the Bison are looking forward to continuing their success this season.
"I am looking forward to continuing the journey with this team. I have never been a part of a team that works this hard for each other, on and off the field. It is truly a brotherhood and everyone had each other's backs," Sands said. "It is a special team to say the least, and I am excited to see our full potential."
STATS:
3rd Bison to reach 200 points
5th Bison to reach 100 assists
6th Bison to reach 100 goals
(Visited 122 times, 1 visits today)