Athlete of the Week: Marisa Alemany '20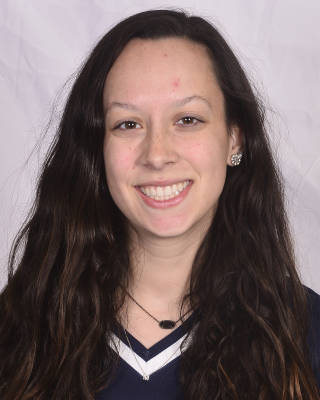 Earlier this month, after the Bison women's softball team swept a three-game series against Holy Cross, all eyes were on Marisa Alemany '20. Alemany is part of the young talent for the Orange and Blue, as she is surely making a name for herself on the diamond in her second season with the team. This season alone, Alemany has hit three home runs, among other stellar offensive performances.
"Honestly, I just try to leave everything I have on the field. I would do anything for my teammates, and I know they would do the same for me. So really they are the ones who have an impact on me," Alemany said. "I feel like I definitely feed off the energy of my teammates, and I feel as though everyone contributes something different, which is what makes this group so special, because our team has so much depth and versatility."
Alemany's sophomore success stands out, as she is coming off of a season-ending injury from the middle of her first season. The challenges any injury creates for an athlete are surely evident; Alemany reflected on this experience and how it has affected her moving forward.
"It was really hard to watch from the sidelines and not be able to physically help when things began to work against us, but I worked really hard on my rehab from the moment I got out of surgery so I could be ready to play this season. Sometimes the challenges we face end up making us better people and players, and I definitely feel like I have grown as a player since my injury," Alemany said.
Despite coming off of this injury, Alemany has seen notable success so far this season. She hit her first home run early when the team traveled to Georgia, which has been a highlight of her sophomore campaign.
"One of my best moments so far was hitting my first career home run in Georgia when both of my parents came to visit me. It was really special to have them there, and the fact that they got to witness the first one was amazing," Alemany said.
She was named the Patriot League Softball Player of the Week for the week of April 2 after her outstanding offensive performances in the Holy Cross sweep. Despite her individual success, however, her favorite career moments have been centered around her team.
"My favorite part so far has to be traveling the country with twenty of my best friends. So many of these experiences would not be the same without them and I am so grateful for their support and friendship," Alemany said. She is ready for the challenges that will lie ahead of her and her teammates as the regular season draws to a close.
"I am looking forward to playing better competition. We got a little sample this preseason with playing schools like Georgia, St. John's, and other power schools, but I'm excited to see how we fare against other big schools in other parts of the country. I also am looking forward to just enjoying playing and making more memories and experiences with my teammates," Alemany said.
The women's softball team goes on the road to face Patriot League competitor Lehigh on April 14-15 in a three game series.
STATS:
.318 (27-85) batting average (2017)
.438 on-base percentage (2017)
(Visited 216 times, 1 visits today)