Athlete of the Week: Mimi Richards '20, Volleyball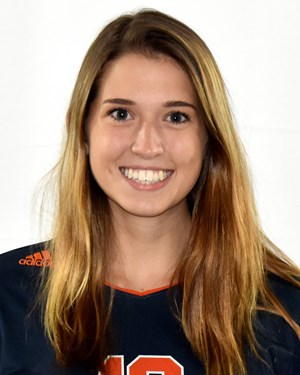 Mimi Richards '20 was one of two Bison players to represent the Orange and Blue on the All-Tournament team at the Bucknell Invitational this past weekend, Aug. 24-25.
Richards has had an impactful collegiate career so far including a highly-decorated sophomore season. Last year she was named to the All-Patriot League Second Team, received All-Tournament selections three times, and set a Bucknell single-season record with 121 block assists. Her list of accolades and impressive stats go on and on.
However, Richards still feels like she has a lot to prove, and she is determined to help her team get into the Patriot League Tournament in her junior campaign. Since 2010, the Bison have failed to reach postseason play. Richards, who led the Patriot League in total blocks last year, picked up right where she left off from last season in the Bison's season opener on Aug. 24 against the New Jersey Institute of Technology (NJIT).
En route to a 3-0 win, Richards recorded six kills while posting an outstanding .417 hitting percentage and five block assists. She continued her imposing play on Aug. 25 in a win against St. Peter's and in a loss to Youngstown State.
"This summer I really focused on my mental game. That means staying controlled and engaged for the whole set," Richards said. "I believe that aspect of my game really prepared me for a successful first tournament."
The Bison entered the season with high hopes, and starting off strong certainly felt satisfying for the squad.
"The team is looking really good this year, and I think that showed in our first three performances. We know that when we stay together as a team and play as one, we are capable of amazing things," Richards said.
Bison volleyball will travel on Aug. 31 to Brookyln, N.Y., for the Terrier Invitational, where they will face Delaware State. On Sept. 1, the Bison will face Cal State Fullerton and NJIT for a rematch of the season opener.
(Visited 410 times, 1 visits today)