Get (pre) oriented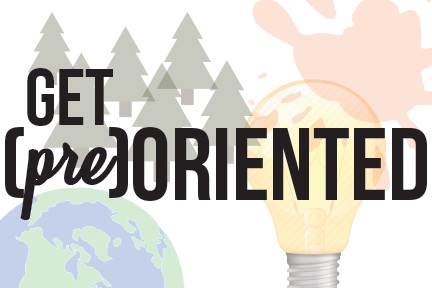 Every year, prior to the start of New Student Orientation, the University offers first-year and transfer students the opportunity to participate in a pre-orientation program. Although participation in a pre-orientation program is not required (except for International Student Orientation, which is mandatory for those on U.S. student visas), it is strongly encouraged as the programs provide new students with a great way to make friends, explore interests, and enhance leadership skills prior to the start of New Student Orientation. The University offers six different programs: Arts First, Backstage Bucknell, BuckWild, Design Thinking Leadership, RAMP Up!, and International Student Orientation. Pre-orientation programs are five days long and all occur at the same time, so students may only participate in one. Hundreds of new students choose to participate in a pre-orientation program every year.
Arts First
Arts First is open to all first-year students with an interest in the arts. Arts Merit Scholars and Arts Residential College students are strongly encouraged to attend and are given preferential admission. The pre-orientation program allows new students the chance to make connections to the arts at the University and learn about the arts' academic programs, centers, internships, and student clubs. During Arts First, students work with a visiting artist and University faculty in the disciplines of theatre, dance, music, art, art history, creative writing, museum studies, publishing, and film and media studies. Arts First is tailored towards students from all artistic backgrounds. Participants attend mini-workshops in different artistic disciplines, explore trust and teamwork through participation in the CLIMBucknell ropes course, share their talent in a series of artistic showcases, and work together on a project with the visiting artist, culminating in an original art event that other pre-orientation programs are encouraged to attend.
"Arts First was really appealing to me because I wanted to be around people that (hopefully!) I'd know for the rest of my time at Bucknell!" Reagan Withey '21, a former participant of Arts First, said. "It seemed like the best way to have fun with others who had the same passion as I did, and now I can safely say that I made lasting friendships in Arts First."
Backstage Bucknell
Backstage Bucknell is part of the nationally recognized Engineering Success Alliance program, which is an academic success program that supports students from under-resourced high schools who have the skills to thrive. Backstage Bucknell is a program for invited first-year engineering students to come together, form relationships, and build a strong community through networking and creating a support system on campus before the kickoff of New Student Orientation and their first year at the University.
BuckWild
BuckWild is a wilderness pre-orientation program open to first-year and transfer students with an interest in the outdoors. It is also the largest pre-orientation program on campus. Students can choose from a number of outdoor trips, including Paddling the Susquehanna River, BuckWild Unpacked, Delaware Water Gap Basecamp, Ohiopyle State Park Basecamp, Ricketts Glen State Park Basecamp, Backpacking (Old Loggers Trail or Black Forest Trail), Rock Climbing and Caving, and Backpacking (Appalachian Trail) and Climbing. Each trip offers different activities for students to participate in including backpacking, rafting, kayaking, hiking, tubing, caving, canoeing, paddle boarding, biking, stargazing, and ropes course. The trips are led by University students who go through a year of training that fully prepares them to lead a new group of first-years. No experience is required to participate on any of the trips, although each trip does have a different challenge level, as some are more intense than others. Most participants in the program have no or little prior experience in the outdoors.
Design Thinking Leadership
Design Thinking Leadership (DTL) is the newest addition to the pre-orientation programs, making its debut this semester. The program works to connect students with similar interests in entrepreneurship through small group activities. Additionally, students have the opportunity to engage local businesses and collaborate with numerous initiatives.
This program was designed by Billy Wall '20, a member of the University Innovation Fellows cohort who works to spread entrepreneurship on campus. DTL is the only fully student-led and student-designed pre-orientation program. Wall was trained in "design thinking" at the Stanford Hasso Plattner Institute of Design and Google when he attended a conference last year. When designing the program, he decided that design-thinking would be the most beneficial skill to teach the incoming first-year students in order to introduce them to both entrepreneurship and how to best become a leader on their new campus.
"After conducting a landscape campus to survey the resources and opportunities on campus, I noticed a lack of entrepreneurship in the first year community," Wall said. "In order to build a foundation for this, the pre-orientation was found to be the best opportunity."
DTL focuses on design-thinking, which is a type of problem solving that focuses on understanding your audience above all. Often, the phrase "start with people, end with solutions" is used to describe this school of thought.
"The students were extremely enthusiastic and very professional during the clientele interactions. Along with the educational and professional agenda of the program, there were tons of fun activities throughout the program including escape rooms, a dance party, Cowan ropes course, a trip to Knoebels, and more," Wall said.
Ramp Up!
Ramp Up! is a pre-orientation program for students that have been selected for the Together Everyone Achieves More (T.E.A.M.) Mentoring program. T.E.A.M. is a peer mentorship program that pairs first-years with upperclassmen in order to provide a supportive relationship for first-years as they embark on their four-year journey. Ramp Up! provides selected students with a five-day pre-orientation experience filled with bonding, community building exercises, and team skills to give students a support network before they begin their first year.
International Student Orientation
International Student Orientation gives new international students an opportunity to explore campus and form a supportive community from all over the world prior to New Student Orientation. Attendance is mandatory for any international student on a U.S. visa due to visa compliance requirements; however, several students from the United States also choose to attend each year.  The program is run by International Orientation Leaders (IOLs) and International Orientation Assistants (IOAs). During the program, students participate in group activities, a trip to an amusement park, skit night, games with other pre-orientation programs, and a formal evening event at the end of the program. Students are given the opportunity to meet academic deans, faculty, and staff as they learn about resources on campus, complete their immigration registration, open a bank account, and receive medical history clearance during International Student Orientation. Ultimately, this program allows for students to become adequately acclimated to a new environment.
(Visited 245 times, 1 visits today)