Spotlight on summer internships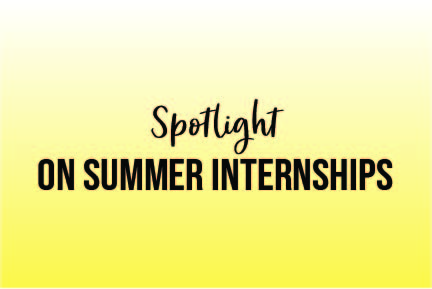 Sara Nicolia '20, Markets, Innovation, and Design: Tarte Cosmetics Intern
How did you get the internship? I had a connection that previously worked at Tarte. After struggling to find an internship, this person reached out to me and told me I would gain an amazing experience at Tarte and learn all about the cosmetics industry, something I am very interested in. They passed along HR's email where I sent my resume, which led to several interviews.
Daily schedule: I worked with the International Sales Team doing marketing for the Middle East, Southeast Asia, and Australia. My day-to-day schedule included

a

lot of Excel, l

ooking at yearly, monthly, and weekly sales reports, creating product assortments that would be displayed within the Sephora stores, and sending out product samples to the countries I worked with for public relation events and to use for advertisement designs.

Favorite part? My favorite part was the lunch-and-learns held every Tuesday. These were key to my experience because the head VP's from every department came in to talk to the intern group about what their day-to-day is like, how they work along with each department, and how their department functions within the company. I really enjoyed hearing from the packaging team, the product development team, and the brand marketing team. I also participated within two focus groups. This was definitely the most exciting part because I felt that my voice could really be heard within the company. I participated in focus groups pertaining to Tarte's new cosmetic line coming out in the fall, and what other cosmetic companies I like and what products I use aside from Tarte and why.
Biggest takeaway? From this internship, I learned how complicated, exciting, and fast-paced the cosmetics industry is. My experience was a lot different than I had expected, in the best way! I was constantly learning something different from every department besides just working within the International Sales Team. All the interns participated in a capstone project where we created our own line of Tarte makeup and were able to experience first hand product development, packaging and creative design, public relations, and brand marketing. The best part, at the end of the summer, we pitched our new line to the CEO and founder, Maureen Kelly. Ultimately, I learned so much through my experience and gained a great deal of knowledge, and working with a company as amazing as Tarte made it even better.
Stephanie Occhiogrosso '19, Italian Studies and Economics: PricewaterhouseCoopers Tax Intern
How did you get the internship? I applied to over 25 places by November/December of 2017, but PwC was not one of them. The recruiter got my number from probably finding my resume on the Bucknell Bridge and I got a phone call from a random number one day asking me to apply to this internship, so I did, then did an interview a few days later and got the job a few days after that! It was totally random but I'm so grateful it happened.
Daily schedule: I would arrive to the office by 8:30 a.m. because that's when my team typically came in. I would complete various assignments that people of all levels assigned me and our other intern. They were mainly to help them get started on their work or to allow them to work on more important tasks. Assignments varied from editing documents to emailing clients, sitting in on phone calls with clients, shadowing someone new. I would do all of this throughout the day until 5:30 p.m. with a one hour lunch break in the middle of the day. They preferred interns to not work overtime.
Favorite part?  My favorite part of it was getting to know the people I was working with and having candid discussions about the work and culture of PwC. Most of them were super sociable and friendly and weren't afraid to open up to us as interns to tell us their story and what PwC has done for them. I also really liked lunch.
Biggest takeaway? I learned that I really love the work I did with PwC. At times it may have seemed irrelevant or silly, but we do work for clients who have important problems they need to solve for their companies. Working in Global HR Tax Solutions allowed me to have a hands-on experience with determining how companies decide to pay their executives and employees. For example, companies will come to us because they're undergoing a merger and acquisition and need to determine how to pay the new CEO. Or, one company filed all of their taxes wrong for a few years in a row and owed the IRS tens of millions of dollars, and the Partners of PwC knew the tax laws including penalties and fines, so we were able to work together to help this company get out of debt. I learned I really love PwC and they really do care about their people. At the end of the internship I expressed my interest in transferring to the New York City office for personal reasons, and they were able to make this transfer for my full-time position starting next fall.
Jonathan Li '20, Computer Science & Engineering, Management for Engineers: Quantitative Research Intern at Moody's Analytics
How did you get the internship? Return offer from last year

—

Bucknell is a target school of Moody's now that recent Bucknell interns did a great job.
Daily schedule : In the morning I would get to my office at 7 World Trade Center at 8:30 a.m. Throughout the day I would have meetings, work on different projects, and meet with my managers. I loved walking around the city during the day, grabbing lunch, and meeting up with my friends who were also in the city interning.
Favorite part? I can't decide on my favorite part so I'll pick two! The first is that I was working in the World Trade Center, so literally being at the center of the Western business world was invigorating and motivating. Second, I loved that I could apply the knowledge from economic and financial academic research into an streamlined data-driven engineering process.
Biggest takeaway? Although my department was relaxed, I realized that I love leading the development of new products and presenting my findings, especially in an intense work environment. I felt very empowered when I presented to the whole department

—

many of whom had masters and PhDs in finance and economics.
Martin Brennan IV '19, Political Science and Spanish: Intern for U.S. Representative David Joyce on Capitol Hill
How did you get the internship? Since one of my majors is political science, I knew I wanted to be in D.C. for the summer. Being socially liberal but fiscally conservative, I wanted to try to find a member of Congress who aligned with my views, no matter which political party they belonged to. In my research I discovered Representative Joyce and found that I aligned with much of what he stands for. I applied, interviewed, and eventually got the position as an intern to him and 

his staff.

Daily schedule: My typical work hours were from 9 a.m. to 5 p.m., however I had no set schedule per say. I performed many different roles throughout the day that can essentially be broken down to legislative and constituent functions. Some of my legislative responsibilities included drafting memos of upcoming bills and advising my Representative

on 

which stance to take, attending briefings when the Representative's staffers could not, and taking bills to be co-signed to other congressional offices, then delivering them to the Cloakroom, which processes bills before they reach the floor. My constituent responsibilities included fielding and responding to my Representative's constituents via phone or email, and giving tours of the Capitol Building, which was incredible.
What was your favorite part of it? I would say my favorite part of the job was simply being in D.C.and being surrounded by all things politics. Whether it was passing a Member of Congress in the halls of the Capitol Building, or relaxing and exploring the National Mall on the weekends, every day was filled with new experiences that will no

doubt

help guide me in my postgraduate career.
Biggest takeaway? During my time on the Hill I had many invaluable experiences that taught me not just about the day-to-day inner workings of a Congressional office, but also about the inner workings of the Capitol Building and American Politics. I loved going to work every day and being able to witness a first-hand account of how our Country functions.

It

was invaluable, especially during such an interesting and polarized time in our Nation's political history.
(Visited 539 times, 1 visits today)