Athlete of the Week: Lexi Quick '19, Field Hockey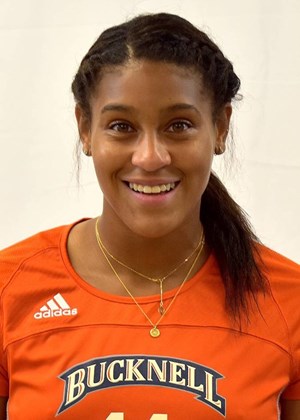 Now in her fourth and final season for the Bison, Lexi Quick '19 has not only been a force to be reckoned with on defense, but has also established herself as a leading scorer for the field hockey team.
Quick tallied two goals and an assist on the weekend with one goal and an assist in a 5-0 win over Cornell on Aug. 31. Her other goal came in a critical moment, completing a perfect fake over the ball, dribbling right, and smashing the ball into the goal with 2:51 minutes left in double overtime for a 2-1 win over Richmond on Sept. 2.
Quick's standout performance and leadership on the field is nothing new this season; the two-time captain and this past week's Patriot League Defensive Player of the Week is looking to build on a marvelous 2017 campaign. Quick still hopes to raise her standard of play, following a junior campaign in which she earned First Team All-Patriot League, Patriot League All-Tournament Team, and led the team in assists.
As the Bison field hockey team continues on with their season and begins to play Patriot League opponents, Quick serves the team as one of its two captains.
"I strive to help the team in leading by example, fostering a healthy team culture, and motivating different personalities on the team," Quick said.
Reminiscing on last year's season, Quick stated that the Patriot League semi-final game against American University is one of her favorite memories while playing for the Bison.
"The game went into double overtime and shootouts … it was great to beat them after having a tough lost against them early on in the season." Quick said.
As the season is just beginning for the field hockey team, the team strives to sort out kinks and gain momentum. Led by a group of seven seniors, experience paves the way for the team.
"As a senior I'm looking forward to playing with the team for one more season," Quick said. "This is one of the last times I will ever get to play with this group of girls and I think our team has so much potential, I am more than excited."
CAREER ACCOMPLISHMENTS:
First Team All-Patriot League (2017)
Patriot League All-Tournament Team (2017)
Preseason All-Patriot League (2018)
Three-time member of the Patriot League Academic Honor Roll
Three-time member of the NFHCA Division I National Academic Squad
(Visited 294 times, 1 visits today)