Athlete of the Week: Alex Pechin '20, Football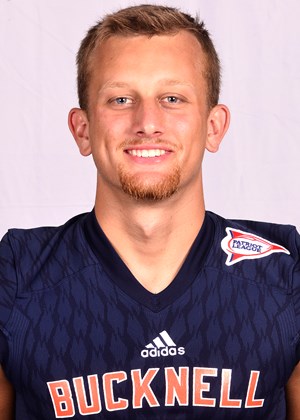 Alex Pechin '20 is in his final season for the Orange and Blue as the football team's punter/kicker. Pechin is a highly-decorated senior on and off the field, with several school records and numerous academic accolades: he holds the record for highest career punting average, the sixth- and ninth-longest punts, and was the 2017 Patriot League Scholar-Athlete of the Year.
While Pechin derives success and support from his teammates, he also devotes a large part of his inspiration for perfecting his craft to his father and brother.
"They always are instrumental in helping me set and achieve goals. I owe a lot to them and the rest of my family," said Pechin.
As one of the team captains, Pechin strives for team success not only on the field, but also off the field as well.
"One thing that I always try to promote is a sense of unity. I think that this is one of the most important aspects of any successful team. It creates strong bonds between the players and fosters a strong sense of community where everyone works together," said Pechin. "That's always what everyone thinks of as a perfect team, and it's something that I want to strive for."
Despite an 0-2 start to the season, Pechin and the "band of Bison" are taking each challenge they face in stride.
"Personally, I hope that my consistency can continue to improve in my role, which is important for winning the field position battle for our team," said Pechin. "As a team, we have had to fight through injuries, and I hope that the guys can continue to succeed with a 'next man up' attitude."
When asked about his favorite memory of his career, Pechin said, "Playing at Army my freshman year. It was their homecoming game and there were over 30,000 people in the crowd. I have never been a part of anything in front of that many people before; it was unforgettable."
The Bison football team is putting in hard work in preparation for their game against the University of Pennsylvania on Sept. 15. Pechin looks forward to "the chance to be able to compete for a league championship for the last time with the people that [he] came into Bucknell with."
STATS entering the 2018 season:
150 punts for a 43.3 average
46 kickoffs for a 59.7 average
4-for-8 on field goals
11-for-13 extra points
23 points
(Visited 326 times, 1 visits today)