Athlete of the Week: Rade Joksimovic '20, Water Polo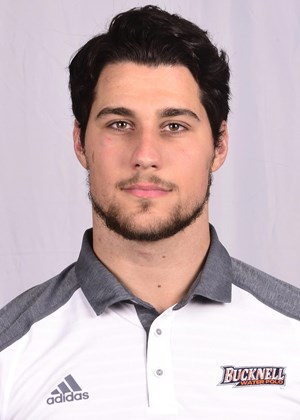 Success is no stranger to Rade Joksimovic '20; the junior attacker for the Bison men's water polo team has already collected multiple awards and accumulated 72 points at this point in the 2018 season.
Over the past weekend set of games, Joksimovic hit a major milestone in his career. He is now one of four Bison to have reached 300 goals in his career and is already on his way to hit the 400 goal mark.
"It's incredible, I am grateful to be in the company of those three amazing players, three Hall-of-Famers who have been able to achieve such a milestone and write the history of Bucknell Water Polo," Joksimovic said.
While achieving individual success is a huge part of any athlete's mindset, Joksimovic focuses on more of a team mentality. "Even though these individual accomplishments are very nice, I am more focused on our team success and to write our own history as a team," Joksimovic said.
Reminiscing on favorite memories while playing water polo, Joksimovic added, "Winning the Mid-Atlantic Conference Championship two years ago. Last year we came really close to doing it again, but I hope we will be able to repeat that success this year."
Water polo has always been a large part of Joksimovic's life. He attributes his inspiration for water polo to his family and childhood in Serbia.
"Water polo has been a part of my life since I was a young kid growing up in Serbia, dreaming of playing for the national team," Joksimovic said. "I have been inspired by my family and friends to be the best version of myself and give everything I have to water polo because it has given me this opportunity and allowed me to come to such as great school as the University."
As the short season continues, Joksimovic's main concern has become the level of preparation the team will have for the final tournament and how to best utilize the team's assets.
While the water polo team lines up to battle George Washington, Navy, and Johns Hopkins next weekend (Sept. 29-30), Joksimovic looks forward to continuing building on his already impressive season.
STATS entering 2018
Ranked fourth among Bison in career goals (260),
fourth in career shots (415),
sixth in career steals (162) and
ninth in career sprints won (42) …
2016 total of 184 points stands fourth in school history …
set school record with 14 goals against Connecticut College in the first round of the 2016 MAWPC Championship.
(Visited 277 times, 1 visits today)