Athlete of the Week: Ali Russo '20, Women's Soccer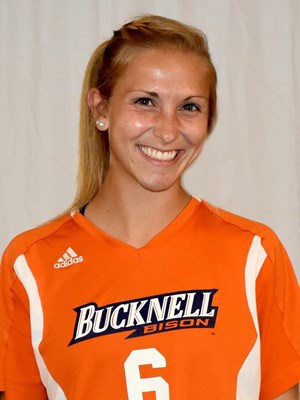 Ali Russo '20 is not often a name associated with the game-winning goal, yet her name is one that gets spoken frequently on the sidelines and in the stands as she makes defensive saves that keep the Bison women's soccer team in the game.
Russo has helped lead the Bison in winning back-to-back Patriot League Championships in the 2016 and 2017 seasons. Russo is one of the team captains for this year and fosters a team mentality rather than an individual one.
"As a captain, I want to promote an environment that is every person giving 100 percent every day, regardless of the situation, or what is going on outside of the soccer field," Russo said. "When we play, I want everyone to enjoy their time there, and use it as a place of escape from all the other things in their life, and we do that by working as hard as we can, in everything that we do, which also makes playing more fun."
Looking back on her first two years as a Bison, Russo recounts one of her favorite memories as the time when "we put the trophy back on the bus after beating Navy on their home field in the Patriot League final, after losing to them the weekend before on their field in the regular season."
While many athletes are inspired by their family and teammates, Russo attributes the title of her biggest supporter and motivator to an assistant coach.

"Leigh Howard, the assistant coach for my first two years here would definitely be my biggest motivator and supporter. She was constantly encouraging me, and talking to me about how I was doing. She was always honest with me, especially with things that I needed to work on, and she was always willing to help me individually to get better at these things," Russo said. "She pushed me to be greater than I was the previous day, and it was because we had such a strong relationship that I cherish to this day."
Riddled with injuries and emotional struggles, the women's soccer team faces adversity everyday, whether it be insufficient practice fields or a lack of depth in field positions.
"We have dealt with a lot of adversity on our team, not just with injuries but with several emotional and physical things, but we have stuck together, and we are getting through each and every battle together as a family," Russo said.
Looking forward to the rest of the season, the Bison will begin to play more Patriot League teams and hope to deliver another championship at the end of the 2018 season.
"We have an opportunity to prove everyone wrong- considering the fact that we are predicted as coming in 4th in the league this year, since people don't expect as much from us, with the class that graduated last year," Russo said.
STATS:
41 games played
41 games started
1 goal
3 assists
(Visited 340 times, 1 visits today)