Athlete of the Week: Ryan Ott '19, Men's Soccer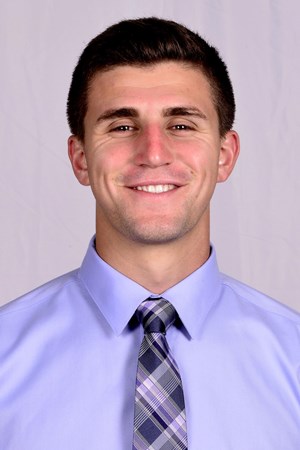 With the season in full swing and the Patriot League Tournament approaching, the Bison men's soccer team owes a large portion of their success to Ryan Ott '19, the senior goalkeeper.
Ott, a prominent leader on the team, tries to promote a positive mentality and reinforce the idea of taking one day at a time to the players.
"One thing we've been saying since day one is to take it one day, practice, game at a time. The Patriot League season is a long one, and it's very difficult to have a completely perfect season. There's going to be ups and downs," Ott said. "We try to keep it as positive as possible and believe in the process day in and day out."
The Bison have been working hard to improve their performance since the beginning of August. Ott urges the team to look forward to the second half of the season and league play. The team has had their hiccups, but according to Ott, focusing on what the team can control is of imperative importance.
"I'd say the biggest challenge we've faced as a team this season is putting the game away. Our team has always had pride in our defensive ability from the striker to the backline," Ott said. "Moving towards the second half of the season, we'll look to score early and continue to go forward to add to the scoreline."
Ott attributes a major part of his inspiration to play to his head coach Brendan Nash.
"Throughout my soccer career, I've had some pretty excellent coaches. What sets coach Nash apart is what he likes to call the 'details.' This program is built on these small details that, in the end, set us apart from other teams. If it's practice, are our pinnies on correctly and are our practice balls pumped up? At this level, every team is going to be good, so it's these messages that coach Nash preaches that makes us unique," Ott said. "I know going forward in the workplace, I'll be able to apply this detail-oriented ideology to make sure I'm always prepared."
"My favorite memory so far has to be our quarter-final penalty shootout win against Boston University during my sophomore year. Especially with such a long drive home afterwards, it was awesome to celebrate such an exciting win on the bus," Ott said.
As the Bison continue on with the rest of their season, Ott is excited to approach more Patriot League competition.
"Historically, the team plays its best soccer as the season progresses into late October and early November. Taking it one game at a time, I'm looking forward to seeing our team build off each performance so we're at our best when the end of the season comes around," Ott said.
STATS:
0.94 GAA and 0.821 save percentage
Leads the Patriot League in save percentage and ranked No. 2 in GAA as of 2017
(Visited 346 times, 1 visits today)