Twyla Tharp encourages creativity
By Emily Harwood
Staff Writer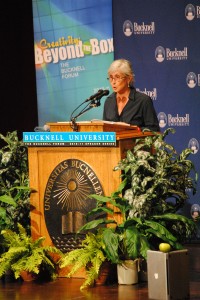 Anyone can harness his or her creativity with ambition and discipline, a renowned choreographer said Tuesday evening.
Twyla Tharp, distinguished choreographer, writer, director and winner of numerous honors, including Emmy and Tony Awards, as well as a Kennedy Center Honor spoke to an audience at the University's Weis Center for the Performing Arts. Her talk was the first in the new Bucknell Forum Series "Creativity: Beyond the Box," which will continue throughout the fall semester.
"I do think that everybody has something to say. It's about whether or not they have the discipline to believe in oneself … some just don't have the confidence to speak it very loudly," Tharp said.
"Creativity has muscles. They can be trained," she said.
Tharp said that we have control over our own creativity.
You must have a fantasy about your creative goal and then ruthlessly practice and educate yourself, she said.
"Preparation can become a shield for this fear that we go into…you give yourself a beginning," Tharp said.
You also can't be intimidated or afraid to fail. Most people, she said, are scared of the amount of experience that precedes them.
"People often do become intimidated by the past … the trick is not to be intimidated by the artists, by the knowledge," she said.
"In our culture there's a value on originality," Tharp said, which is not completely the case. "The best art is deeply rooted just as the tallest trees are deeply rooted…You need to have information before context and you need to have context to have subject matter."
Many students found Tharp's talk on creativity helpful.
"Twyla Thwarp's lecture was very inspirational to me as an artist, especially how she so clearly lived her art, from the way that she moved onstage to the way she welcomed the audience and even supervised an impromptu performance." Brenna English-Loeb '11 said. "I feel privileged to have seen such an influential artist and get a chance to see firsthand how she habitually creates success."
"Tharp's speech was evocative, and while her expertise may lie in the artistic realm, I believe she helped her audience understand the pervasive nature of creativity and the importance of embracing ingenuity regardless of profession," Lindsay Machen '11 said.
(Visited 106 times, 1 visits today)