Athlete of the Week: Bryan Marine '19, Football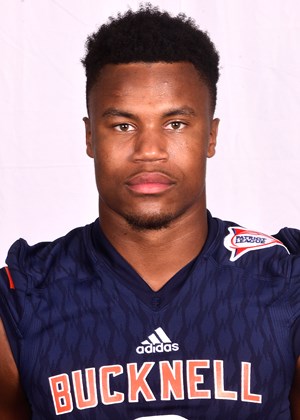 With only four games left in the season, Bryan Marine '19 is determined to end his career with four more wins. The highly-decorated senior was recently named a semifinalist for the National Football Foundation & College Hall of Fame's William V. Campbell Trophy, often referred to as the "Academic Heisman." For the Orange and Blue, Marine is a recognized leader on and off the field, and was named one of the four captains for the 2018 season.
"We have strong chemistry, especially on defense, which has been built on hard work and swarming to the ball. Creating turnovers was an emphasis and we are doing a great job but there's always room to improve," Marine said.
After getting off to a rough start earlier in the season with injuries and team losses, the senior captain keeps a mentality that helps foster a positive team atmosphere.
"Mental toughness is definitely a challenge for both myself and the rest of the team," Marine said. "We have battled some minor injuries and tough situations, but having a positive mindset helps me and the other guys play to the best of our abilities."
Marine honors his mother when he thinks about his main inspiration for playing football and life in general.
"I'd say my mother is my biggest inspiration, she's been through many hardships and setbacks in life but she never shows it. Having that courage and grit inspires me to give my 100 percent despite any circumstance," Marine said.
Reminiscing on his career, Marine has an enormous amount of memories and favorite plays.
Marine said, "My favorite play would be the goal line strip/forced fumble sophomore year vs. Marist, and my favorite memory would be finally playing alongside Chanse Riley and Joey Lauro."
With more league play and a tough game against Lafayette on Oct. 20, Marine looks forward to "finishing out league play strong and preparing the younger guys for the future."
Career Stats:
10 INTs
20.1 yards per kickoff return average
167 solo sacks
(Visited 260 times, 1 visits today)