Bison Girls: Off the Court
The University's Bison Girls perform a sold out show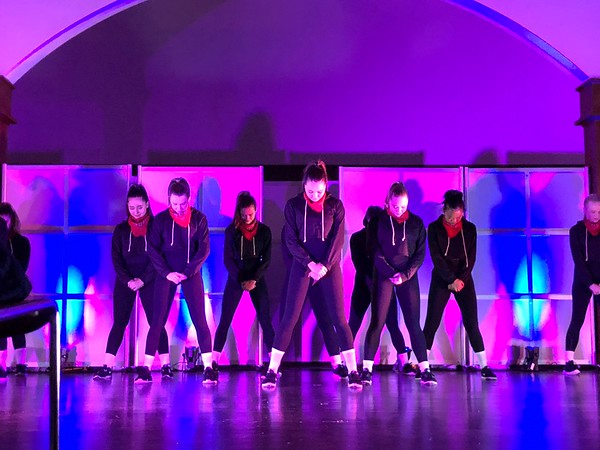 The Bison Girls Dance Team, known for performing at basketball games, has started a new annual performance called Bison Girls: Off the Court.
"We love performing at basketball games, but we wanted to do something different that focused on our teams' abilities in different styles of dance. Our usual style is high-energy jazz and hip hop. We included these classic styles in our show but also challenged ourselves to do more contemporary, emotional pieces," Bison Girls President Maria Garavente '20 said.
The show was a fundraiser for the Bison Girls and proceeds, Garavente said, "will contribute to new uniforms that we are working towards since we have had the same ones for five years now. It also gave a chance for our team to come together and try something new. We love any opportunity we can get to perform, so this was honestly just so much fun for us."
The showcase took place on Oct. 18, with special guest performances from the Silhouettes a cappella group, the new Bison Beatz tap group, and a group of Irish step dancers.
"Since our auditions at the end of August, we have put in around 55 hours as a team for this performance. In addition, many of our dancers spent significant time choreographing pieces you saw, as well as coordinating lighting, sound, ticket sales, costumes, staging, and promotions," co-captains of the Bison Girls Tatum Contreras '20 and Megan Fournier '19 said.
The Bison girls performed an opening and closing dance as a whole team in the style of hip-hop. They also collectively performed a contemporary dance entitled "Slide" in the middle of the show. There were six other dances choreographed and performed by various combinations of Bison Girls that ranged all styles of dance. "It was such a gratifying experience finally being able to perform the pieces that we've worked so hard on over the past couple months," Bison Girls member Ellie Hooker '21 said.
"Finding music is always the most difficult. It is really important to us that we find music that inspires us as choreographers, but also that the team can connect with and enjoy performing to. When we chose our jazz song, we wanted something that would open the show in a way that showcased our Bison Girls style, but had a different feel from our usual basketball performances. Thinking about contemporary, we wanted to choose something that we felt gave us an opportunity to reflect on key aspects at Bucknell. When we heard our song, 'Slide' by James Bay, each of us felt immediately inspired by the possibility of what we could convey through pairing it with our movement, style, and choreography," Contreras and Fournier said.
However, the co-captains are also sure to include the entire team in their music selection process. "We always start contemporary by talking to the team about how they connect to the music and in the end, all of us reflected on ideas about navigating life transitions," Contreras and Fournier said.
Garavente explained the Bison Girls' hopes for the future. "In the future we hope we can make this show an annual event (maybe even one per semester). We attracted a larger audience than we thought and sold out, which was so exciting to see. We hope this continues to be a tradition for the team for many years to come," she said.
(Visited 515 times, 1 visits today)