Athlete of the Week: Colleen Buckley '19, Women's Cross Country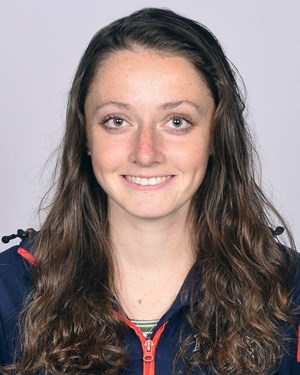 Colleen Buckley '19 competed in her final Patriot League Women's Cross Country Championships on Oct. 27, where she won the 6k race in a field of 110 runners. The highly-decorated senior earned her third-straight First Team All-Patriot League honor after her first place finish.
Buckley and the rest of the competitors raced in grueling conditions, making it a hard-fought race between the field of runners.
Buckley said, "For me personally, I think the weather actually made the race more fun—it was a true cross country race, where people were racing with heart, not racing the clock."
Not many people find cross country racing to be their first choice of a sport. However, Buckley derives her motivation to train and compete in these meets from a pursuit of improvement. Having placed fourth in the championships her sophomore season and third her junior year, Colleen came into the current season ready to take first place.
"Winning the individual race was my goal coming in to the season, but there are some really talented girls in the Patriot League, so I knew it wouldn't be a walk in the park," Buckley said.
As the season approaches an end, Buckley and the rest of the team have faced several challenges. Reflecting upon her career as a Bison, Buckley has a lot of wisdom to offer to the underclassmen.
"I think the best piece of advice I can give our underclassmen is to try and completely let go of that pressure, as odd as that might sound. Overthinking running takes away the fun of it, to a degree," Buckley said. "Going into league meets recognizing the significance is important, but enjoying the moment and letting the run come to you instead of trying to force it is what makes for the best races."
Looking forward to the remainder of the season, Buckley hopes to take home another first place finish in the upcoming Mid-Atlantic Regional race, hosted by Penn State on Nov. 9.
STATS:
Five individual Patriot League titles
10-time All-Patriot League (nine individual, one relay)
Four-time Academic All-Patriot League
Six-time Patriot League Academic Honor Roll
(Visited 65 times, 1 visits today)