Men's soccer fails to make postseason, ends season in 4-1 loss to Navy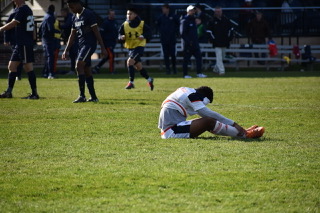 The Bison men's soccer season came to an end when they lost to Navy 4-1 at Emmitt Field on Nov. 3. They finished the season with an overall record of 6-8-3, and a 3-5-1 record in the Patriot League.
The Orange and Blue came into the game in seventh place in the Patriot League, but a potential win would have propelled them to fourth place and a playoff berth. Knowing the circumstances of the game, the Bison pressed early and attacked Navy constantly to search for the goal that would take them a step further into clinching a playoff spot.
In the 15th minute, defender Bernie Wright '20 fired a shot that Navy's goalkeeper pounced on to keep the score at 0-0.
In the 20th minute, Navy broke the deadlock and scored on a long shot that found the inside of the left post. Up to that goal, the Orange and Blue had stifled Navy's offense and had not allowed a single shot.
Going into the second half down by one, the Bison strived to score the two goals necessary to overcome the Midshipmen. As they pressed up to find the equalizing goal, the Orange and Blue were left vulnerable in the back line. As a result, Navy went on to score two goals on the counter-attack in the 56th minute and 64th minute to open up the game.
"From our scouting report, we knew Navy was going to be patient and look to counter attack.  That is exactly what they did for all four goals," head coach Brendan Nash said. "Unfortunately, we were caught in transition and did not do a good job of slowing them down on the counter attack."
Down by three goals, the Bison did not give up and got a goal back as midfielder Stefan Gollisz '21 scored in the 74th minute to cut the deficit to two. Gollisz's goal brought life into the Bison as they mounted pressure on Navy. They almost found a second goal when one of Wright's shots was saved and a shot by forward Michael Pavick '22 was cleared off the line.
A minute later, Navy scored from a two on two break. The three-goal deficit proved too large for the Orange and Blue to overcome.
"Our program always respects the game. Despite the result Saturday, it was not different. Our three seniors could walk off the field knowing for four years they gave 100 percent to the team and to this university," Nash said.
The Bison had 10 corners to Navy's one and outshot Navy 23-10, but Navy capitalized on their chances, which proved to be the difference.
With this defeat, the Bison missed the Patriot League Tournament for the first time since 2011, bringing their season to an end.
(Visited 55 times, 1 visits today)