Volleyball finishes season with a victory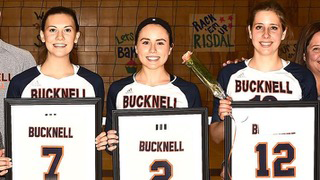 The volleyball team wrapped up its season last weekend with two tough Patriot League matchups against Army West Point and Loyola Maryland. The Bison fell short to Army in a 3-1 loss on Nov. 9, but they bounced back on Nov. 10 to overcome the Greyhounds 3-2, ending the season on a high note.
In their second matchup of the season with Army, the Orange and Blue came out strong in the first set. The team gathered momentum quickly and finished the set with a 25-17 win. With a loss of 35-33 in the second set, the Bison lost strength going into the last half of the match. The Bison fell to Army in the third and fourth sets.
Bridgette Holland '20 led the Bison with 14 kills on .429 hitting and three total blocks, while Delanie Lewis '21 tallied 11 kills on .346 hitting.
Alexa Bonanno '21 had a total of 45 assists and 14 digs. Sophie Bullard '20 led the team in digs with 21 while Brooke Stark '20 added 17.
The Orange and Blue looked to bounce back on Nov. 10 in their final game of the season. Led by their three seniors, Lindsey Baker '19, Blake Buchholz '19, and Jamie Risdal '19, the team proved victorious with a 3-2 win over Loyola.
The Bison seniors all started the match and together had a total of 31 kills and 5.5 blocks. Risdal had the final kill in the fifth set and finished with eight kills, .474 hitting, and three block assists. Baker added eight kills on .467 hitting, while Buchholz had a double-double with 12 kills and 19 digs.
Starting off fast once again in the first set with a 25-13 win over the Greyhounds, Holland led the team with 13 kills and six block assists. Bonanno led the team in assists with 46.
"I'm very proud of the way we have overcome so much. The team really made senior night special for the three of us and I am so grateful to have had this opportunity to work towards a goal with my best friends," Baker said.
The Bison finished with a 3-13 record in Patriot League play after this final victory.
(Visited 75 times, 1 visits today)