Athlete of the Week: Bridgette Holland '20, Volleyball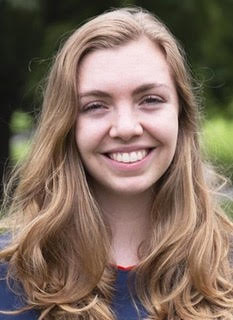 Bridgette Holland '20 had an outstanding season as a middle blocker on the Bison Women's volleyball team. After finishing this season, Holland looks back at her past three seasons as a Bison.
"Though they might not be my favorite memories, two that I remember strongly were my first full practice and first game after recovering from my injury. I remember practicing very well and my whole team being excited and cheering for me when I did well," Holland said.
Transitioning back into playing, Holland recognized that the team did not go without its own challenges this year.
"It was a very challenging year in terms of injuries," Holland said. "Multiple players sustained fairly severe injuries, which impacted our ability to develop on-court chemistry."
Despite facing personal challenges and overcoming adversity regarding the team, Holland now serves as a leader on the team and a player that underclassmen look up to. She embraces this opportunity and strives to make a difference on a daily basis.
"Personally, I try to bring as much excitement and dedication to the game as possible. I feel that I lead primarily through playing, so I do my best to play with intensity and have a strong work ethic, both on and off the court," Holland said.
Throughout her career as a Bison, Holland attributes a good portion of positive experiences to those who served as her own role models.
"Two seniors on my team, Lindsey Baker and Jamie Risdal, have had a strong influence on me. I've become close to them during my three years, and I admire how hard they have worked and how great of teammates they are in spite of many frustrating situations," Holland said. "Their constant support has made me want to continue to earn my spot and lead in the best way possible."
After earning the title of Patriot League Volleyball Player of the Week after the team's final game, and concluding victory over Loyola on Nov. 10, Holland is ready to improve going forward.
"I'm looking forward to next year to see how the talent we have develops, and what we are able to do after a full spring of training. It will be my senior season so I'm hoping to make the most of it," Holland said.
CAREER STATS
Two all-tournament selections
Two-time member of Patriot League Academic Honor Roll
One-time Patriot League Volleyball Player of the Week
379 career kills
(Visited 140 times, 1 visits today)