Athlete of the Week: Kaitlyn Slagus '19, Women's Basketball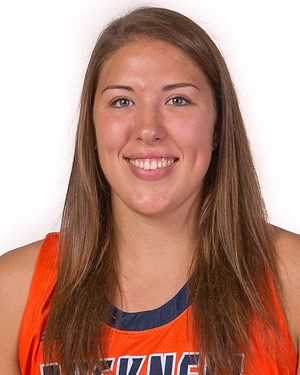 As the winter sports season kicks off, it is common to hear Kaitlyn Slagus' '19 name among the news, a senior forward for the women's basketball team.
Both on and off the court, Slagus tries to promote a team mentality that focuses on hard work and confidence.
"I want our team to work hard and be confident," Slagus said. "Although sometimes practices can be really long and hard, working hard every day makes the games a lot easier in the long run. Being able to go into the games knowing that we have worked hard allows us to play more relaxed and trust the process."
Heading into her final season, the highly decorated senior reflected on some of her favorite memories of her career that helped shape her into the player she is today.
"I've had such a great experience over these past three years that it is hard for me to have just one favorite memory. One thing that does stand out was winning the Patriot League Tournament here in Sojka my sophomore year. Accomplishing something myself and the team had worked so hard for was so rewarding and special and something I really will never forget," Slagus said.
Slagus commended her athletic trainer for keeping the team on the mend as challenges, such as injuries, come with the long, grueling season.
"Like any team, we have faced a few injuries and illnesses that have limited players' action but Casey, our athletic trainer, works really hard to get us back on the court as quickly as possible. With such a long season, it's really important for us to make sure we are taking care of ourselves off the court so we are able to perform our best on the court, especially come March," Slagus said.
Slagus and the rest of the women's basketball team are excited for the remainder of the season and their next home game on Dec. 2 against Iona.
"I'm looking forward to seeing everything this team will be able to accomplish. There are so many talented players on the team that are so much fun to play with and I'm really excited for each game we have," Slagus said.
(Visited 183 times, 1 visits today)