Athlete of the Week: Ally Furano '21, Women's Water Polo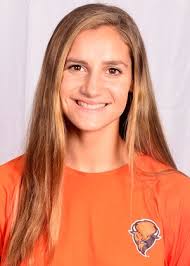 The women's water polo team started their season with three big wins at the Bruno Classic on Feb. 2-3. Ally Furano '21 was a key contributor to the team's opening weekend success, scoring a team-high 13 goals and recording four assists.
The weekend was a strong start to her second season after posting impressive numbers during her first year. Furano started 16 games and played in 29 during the 2017-18 season, finishing third on the roster with 60 total points. Reflecting back on her two years as a Bison, Furano attributes the success that she has had and her work ethic to her coach, John McBride.
"My coach has really changed the way I view working hard," Furano said. "For him, it's all about challenging his athletes to demand more out of themselves. And even when you think you're tired and working hard, you can push further. This has really taught me to leave it all in the pool, and if I feel like I could have worked harder I am letting not only myself down, but the rest of my team."
With Furano's immense success, it comes as no surprise that she has a great work ethic. While she is not an official leader on the team, she tries to foster a positive team mentality.
"I try to always be a positive and supportive teammate. I think negative thinking breeds failure and bad team dynamic. To be a successful, happy, and unified team, we need to be supportive of each other's failures and victories," Furano said.
While every team faces challenges throughout the season, the women's water polo team will have to overcome having a young team in their 2019 campaign. The roster includes four first-years and five sophomores.
"We are a very young team, but we have very high expectations for this year," Furano said. "Compared to last year, our bench is much deeper, so I am very excited to see each member of our team contribute and grow as players."
Furano's younger sister, Paige Furano '22, is one of the first-years who joined the team this school year. The sisters are fortunate to have the opportunity to play together, as they have been since they were young, at the collegiate level.
"Sisters are rarely lucky enough to have their siblings at the same college as them, let alone on the same team. Paige has been on the same swim team, soccer team, and water polo teams as me ever since I was six years old. I am so fortunate to be as close to Paige as I am, so being able to share more experiences with her in and out of the pool at Bucknell is amazing," Furano said.
As the women's water polo team continues on with their season, Furano and the rest of the team have high aspirations and are excited to be strong competitors moving forward.
"Our focus for the season is to win Easterns, something Bucknell Women's Water Polo has never accomplished. In order to do that, we need to learn to play together as a team by embracing the new talent we gained with our freshman class, as well as rely on the experience and knowledge of our upperclassmen to propel us forward," Furano said.
CAREER STATS:
Superior Recognition ACWPC All-Academic Award
Played in 29 games with 16 starts as a first-year
Finished third on the team with 60 points on 47 goals and 13 assists last year
2018-19 team leader in goals, tied for fourth in assists
(Visited 109 times, 1 visits today)