Athlete of the Week: Will Yorke '20, Men's Lacrosse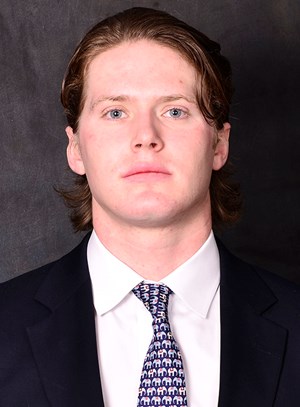 With the Bison men's lacrosse season now underway, attacker Will Yorke '20 proved to be a major standout in the Orange and Blue's first two contests of the year. Yorke scored five of the Bison's nine goals in the game against Bryant on Feb. 10, their second game and first win of the season.
Building on a tough loss to No. 3 Maryland the previous week, the Bison were determined to succeed in their first home game of the 2019 campaign.
"Overall, we responded really well to the loss. We were definitely frustrated because we thought it was a winnable game, but at the same time, we recognized that they are an incredibly good team," Yorke said. "Coach Fed focused on positive takeaways in the post-game huddle and nobody hung their head from then on. This past week heading into the game, we made some adjustments on the offensive end, brought a ton of energy in practice, and prepared extensively, which ultimately led us to success against Bryant."
Reflecting back on his career with Bison lacrosse, Yorke remarked that his favorite memory up to this point came in the 2017-2018 season.
"I'd say my favorite memory was beating No. 1 Yale in overtime last year in their stadium," Yorke said. The Orange and Blue stunned the top team in the nation with a 9-8 extra time victory.
After graduating a large group of exceptional starters in 2018, new positions opened up for returning players. Yorke was able to earn a prominent spot in the lineup this season. He believes with his early-season success it will become more challenging to contribute as the season continues.
"This is my first year consistently seeing the field so, few teams, if any, have a scout on my tendencies yet. I think teams will scout me more thoroughly and it will probably be harder for me to get my hands free and shoot the ball in the future," Yorke said.
Yorke mentioned that he was inspired by last year's seniors, who helped shape a positive team mentality and showed him how to be a leader on the team.
"In retrospect, the seniors last year inspired me more than I've previously been aware of. Not only did they maintain and contribute towards building an awesome team culture, but their dedication and work ethic on an individual level was exceptional as well. I learned what is necessary and what it looks like to be a leader on the team," Yorke said.
As the season has just started, Yorke and the rest of the men's lacrosse team are eager to play out-of-conference teams and eventually earn a berth to the Patriot League Championships and possibly the NCAA Tournament.
"In the near future, we are looking forward to playing UNC and Ohio State, two out-of-conference teams that we just added to our schedule this year," Yorke said. "More importantly and in the long-run, we are looking forward to competing in the Patriot League playoffs and hopefully winning a Patriot League Championship."
The Orange and Blue next take the field on Feb. 16 when they host Richmond.
CAREER STATS
9 career goals
56.7 percent shots on goal
14 games played
(Visited 324 times, 1 visits today)