Athlete of the Week: Kate Walker '19, Women's Basketball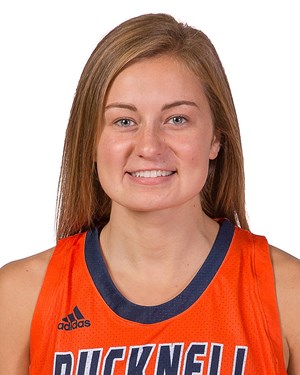 With only four games left in regular season play, the Bison women's basketball team is determined to finish out the season with another chance at a Patriot League Championship. Kate Walker '19 stands out as a major influence, guiding the team to a current record of 22-4 and a 12 game winning streak.
Throughout her four years, Walker has evolved into both a leader and dominating player on the team. With a 78.5 percent career free-throw accuracy, over 2800 minutes of play, and First Team All-Patriot League honors in 2018, Walker exemplifies hard work and determination in every aspect of her game.
While winning the Patriot League Championship in the 2016-2017 season is one of Walker's fonder memories from her career, she says that simply being part of the team culture has elevated her experience at the University.
"Winning the PL Championship in overtime my sophomore year will always be one of my sweetest memories at Bucknell, but I have enjoyed the less glamorous moments too! You really can't beat bus rides and dancing in the locker room. Bucknell WBB has taken me on quite the journey," Walker said.
Walker has had immense success during her career as a Bison. On Feb. 13, she tallied her 1,000th point during a road game against Lehigh, the 24th player in program history to reach the milestone. Her total includes an impressive 117 three-pointers and a 36.1 percent career average from beyond the arc. She attributes her success and her inspiration to play to her coaches throughout the years.
"I have been influenced and inspired by so many of my coaches over the last four years. Our assistant coaches have come and gone, but I feel like I've had a special relationship with each coach that I have gotten to play under. I have a ton of respect for Coach Roussell and I am so thankful," Walker said.
As a prominent leader on the team, Walker tries to maintain a team mentality that has been instilled since her first year.
"I try to be encouraging while also challenging my teammates in ways that make them better players and people. We know that complacency will not get us where we want to end up at the end of the season, so we have to stay motivated and take advantage of every practice," Walker said.
As the regular season is coming to an end, different challenges are beginning to appear for the Bison.
"I think that staying focused and not taking anyone lightly is going to be important for us. We know that we have a very talented team, but talent doesn't win games. We have to continue to get better every day in practice and hold ourselves to a high standard," Walker said.
Looking forward, the main focus of the team is making it to the Patriot League Championship, something undeniably within reach.
"The Patriot League Tournament is something I think about in the back of my mind, but I truly just look forward to every game I get to play in a Bucknell jersey. At this point in our season, every game is an important game and we have to be locked in every single night," Walker said.
STATS: (as of 2/19)
1014 points
8.9 average points per game
114 Games Played
(Visited 258 times, 1 visits today)