Athlete of the Week: Charlie McFarland '19, Men's Swimming and Diving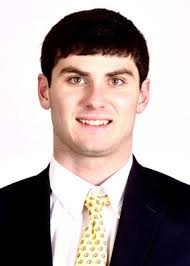 The Bison men's and women's swimming and diving teams hosted the 2019 Patriot League Swimming and Diving Championship meet on Feb. 20-23. The men's team finished third with 397 points. Charlie McFarland '19 was a key contributor to his team's success. He broke the 31-year-old record for the 50 freestyle and also broke school records for the 200 medley relay and 200 freestyle relay.
It is only appropriate for McFarland's impressive year to wrap up with such a dominant performance at the Patriot League Championships. After his latest performance, McFarland is now a member of seven relay teams with top-10 times, including the 200 medley, the 400 medley, and the 400 freestyle.
Reflecting back on the season, McFarland, who served as a captain, recounts the challenges the team faced and may face next year.
"As a program, we have faced many challenges throughout my four years here," McFarland said. "My role and the role of all of the captains this year was to grow from the adversity we faced and change the conversation about the men's swim and dive program. As captains, I believe we have done a great job at overcoming this challenge."
McFarland has promoted mental toughness, something he strives to instill everyday.
"I try to promote a mentality of hard work, openness, and fun," McFarland said. "I believe in setting an example of how to conduct yourself as a member of this team. I believe a team is strongest when everyone is pushing themselves to the best of their ability, when everyone has trust in each other and can be open about issues, and, most importantly, when everyone is having fun with it in the process."
The highly decorated senior only has a week left in his athletic career as a Bison. It comes as no surprise that McFarland's fondest memory of his career comes from the recent 2019 Patriot League Championships.
"My favorite memory has to be from this past weekend after I finished my 50 free. Seeing the reaction from my teammates and my parents in the stands was priceless and it is something I will never forget. The support they have given me this year and throughout my experience has been incredible," McFarland said.
Reflecting on his great success during four years as a Bison, McFarland attributes his inspiration to his teammates.
"I would have to say that my fellow senior classmates have inspired me the most throughout my four years swimming at Bucknell. We have been each other's biggest fans since we stepped on campus, and we have all been through so much together. They all want to see me succeed, and I have fed off of their passion for the sport and this team. They have helped me through countless difficulties, and I owe much of my success to them," McFarland said.
"I am looking forward to capping off an incredible season and my swimming career at ECAC championships. I am excited to watch everyone swim one final time this season and I am looking forward to representing my team for the last time," McFarland said.
CAREER STATS:
20.10s Record in 50 freestyle
56.15s 100 breaststroke time
45.34s 100 freestyle time
Three-time member of the Patriot League Academic Honor Roll
Member of seven relay teams with program top-10 times
(Visited 270 times, 1 visits today)