Athlete of the Week: Jamie DeWitt '19, Women's Lacrosse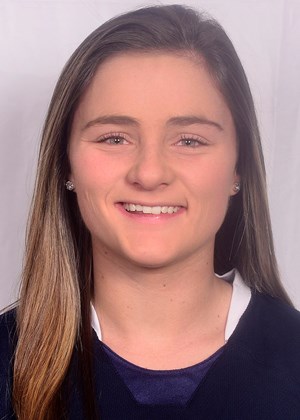 The Bison women's lacrosse team started Patriot League play on a positive note in an 11-8 victory against American University on March 17. In a season that featured a tough out-of-conference schedule, the win gave the team a new energy as they prepare for their upcoming games. In their win against American University, goalie Jamie DeWitt '19 collected 13 saves and only allowed eight goals on 28 shots. The decorated senior has held an important role in the program since her first year.
DeWitt credits her freshman year goalie coach Frankie Caridi with a majority of the guidance she has received.
"[Caridi] got me on the right path and gave me the confidence that I needed. Even though she doesn't coach at Bucknell anymore, it's nice knowing I can go to her for anything," DeWitt said.
DeWitt can also count on her biggest fan, her dad, to provide support and "be her rock" throughout all the highs and lows of the season. One particular challenge this season has been the team's overall record.
"Losing a bunch of games has been mentally exhausting on our team. It can be hard going into games if you don't have confidence, but I know our team can make it through and will crush Patriot League play," DeWitt said.
Her positive mentality has become a staple in the Orange and Blue lacrosse program and is encouraged by DeWitt and her fellow 2019 captains. The constant positive mentality is a factor that DeWitt claims is crucial for their program.
"We have to truly believe we can beat every opponent if we want to win. With that, also pushing myself and my teammates to be our best and put in extra work so that we can fine-tune the little things," DeWitt said.
In her last year wearing the Orange and Blue, Dewitt appreciates everything, especially the memories that being a member of the women's lacrosse team has provided.
"I really enjoyed the trip to San Diego this last break," DeWitt said. "As a team, it was cool to travel on a plane somewhere. Even though we didn't get the wins we wanted, it shows us that our program can be taken seriously enough to go on a trip like that. Hopefully, the teams in the years to come get to experience that."
As DeWitt and the rest of the Bison gear up for more tough competition in the remainder of their season, they look forward "to try and get back some wins in Patriot League games that slipped away from us last year. We have had a really tough out of league schedule but I think it's prepared us to enter the big league games."
CAREER STATS
59 games played
486 saves with a .442 save percentage
Fifth among Bison in career goals against average (11.12) entering 2019 season
2019 team captain
(Visited 76 times, 1 visits today)