Athlete of the Week: Drew Phipps '20, Wrestling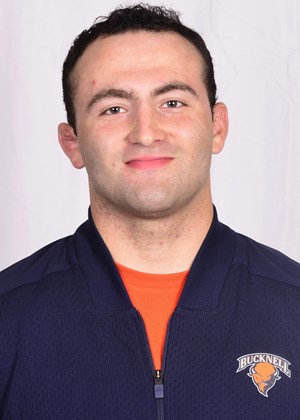 Drew Phipps '20 has proved to be a major contributor for the Bison wrestling team in the 2018-2019 season. Phipps was one of only two Bison wrestlers to qualify to compete in the 2019 NCAA championships after a top-six finish in his 197-pound weight class at the EIWA Championships.
Phipps had a tough draw in the first round of the NCAA Championships and faced No. 5 Jacob Warner of Iowa. Phipps nearly stunned the Hawkeye, though, as he scored a takedown with 11 seconds remaining in regulation. Phipps lost a narrow 9-8 decision that forced him into the consolation side of the bracket in the double-elimination style of the tournament.
In the consolation first round, Phipps dominated Army's No. 12 Rocco Caywood. He won the bout 7-0. With the win, Phipps advanced to the second day of the tournament. On the second day, Phipps was defeated by No. 6 Willie Miklus of Iowa State, 17-4. The loss marked the end of Phipps' impressive 2018-2019 campaign.
The NCAA qualifier did not always enjoy success this year, as the difficult sport comes with many ups and downs.
"I faced a lot of adversity in the start of the season when I didn't do as well as I would have liked in my early competitions," Phipps said. "Luckily, I trusted the process that my coaches had in mind, and I turned a corner mid-way through the year when I began to win a lot. Also, I have already overcome many injuries in my career at Bucknell and I was very fortunate to avoid any serious injuries this year."
Looking back on his previous two seasons as a Bison, Phipps recalls an unusual but favorite memory during preseason workouts.
"My favorite memory is running sprint laps at 6 a.m. on the track in preseason when everyone feels like they are going to die. Knowing that you are pushing yourself through something physically harder than you'll probably ever face again in your life is a great feeling," Phipps said.
Luckily, the junior will get to experience that favorite memory again during next year's preseason. Considering the 2019 season has come to an end for the Bison wrestling team, Phipps looks forward to competing next season.
"I am looking forward to staying on campus and training and enhancing my skills over the summer, as well as getting bigger to grow into a larger 197-pounder for next season," Phipps said.
Phipps has a 25-12 record for the Orange and Blue in 2019, having notched one pin, two technical falls, and seven major decisions. His career record for the Bison is an impressive 60-35.
STATS:
60-35 career record
One time NCAA qualifier (2019)
Two-Time EIWA placewinner (6th in 2019, 8th in 2018)
Four wins over nationally ranked opponents
(Visited 283 times, 2 visits today)