Athlete of the Week: Raeanne Geffert '20, Softball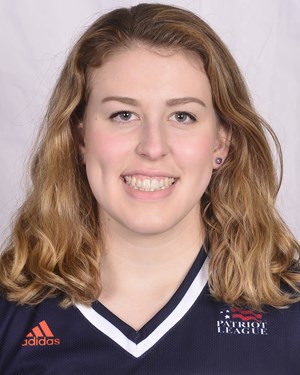 Raeanne Geffert '20 threw a historic no-hitter against Lehigh on March 30. As a two-time All-Patriot League selection – First Team in 2018 and Second Team in 2017 – Geffert was a key reason why the Orange and Blue swept a tough Lehigh team on the weekend of March 30-31. She was named Bison Athlete of the Week and Patriot League Pitcher of the Week for her efforts in the three-game series.
In her no-hitter in the team's first game on March 30, Geffert struck out four batters and lowered her season ERA to an impressive 2.33 in a 2-0 victory. Geffert's no-hitter came against a strong Lehigh offense. The Mountain Hawks entered the weekend leading the Patriot League in batting average (.285) and on-base percentage (.347). The day after her no-hit performance, she pitched another complete game, allowing only three runs (two earned) on six hits on way to her ninth win on the season.
Geffert's results from this past weekend came in a historical victory against Lehigh. The Bison became the first Patriot League team to sweep Lehigh in a Patriot League series of at least three games.
"No–hitting Lehigh was an amazing feeling and experience. It's something as a pitcher that you strive to achieve," Geffert said.
The Bison had a tough non-conference schedule, and the Patriot League is a competitive conference. Each team the Bison go up against comes with their fair share of challenges.
"We have had a tough travel schedule this season, for example when the team was stuck in Louisiana and Virginia and had to miss class due to bad weather conditions. It was a tough time for us, but we have made it work," Geffert said.
After learning a lot through her first two years on the team, Geffert is now one of the prominent leaders on the team.
"I try to promote intensity, but recognize that the game is fun, and we play well when we are loose. Keeping a balance between these is tough, but this where we try to keep our mentality," Geffert said.
With the three-game sweep at Lehigh, the Bison improved to a 16-15 overall record and a 6-0 record in the Patriot League, and Geffert and the rest of the team look forward to competing against their upcoming opponents.
"I am looking forward to finishing out Patriot League play, especially playing Boston University, which will be a huge game for us," Geffert said.
The Bison continue their season when they host Lafayette for a three-game series on April 6-7.
Stats:
357 career strikeouts
6 career shutouts
Single-season program record for innings pitched and games started in 2018
(Visited 152 times, 1 visits today)