Athlete of the Week: Tommy Sopko '21, Men's Lacrosse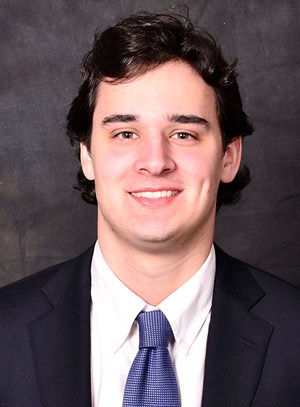 With their 17-4 victory over Lafayette on April 13, the men's lacrosse team set several team records. The 13-goal margin of victory was the largest since a 17-2 decision in a 2011 game. Tommy Sopko '21 was a standout in the game, scoring four of the seventeen goals and logging an additional assist.
The 2019 season for the Bison has been a difficult one. They have faced top-ranked opponents including Maryland and Ohio State, resulting in a record that does not fully capture the talent on the team.
"We have lost a lot of close games this year, which can be frustrating," Sopko said. "It is difficult to have a record that does not reflect our true potential as a team. However, this has also been pretty motivating for us, because it has taught us to focus on our future instead of our past."
With these frustrations, it's hard to keep a good mentality individually and as a team. Sopko, as one of the only sophomores to have started every game in his career, tries to promote a mentality that pushes everyone to play their hardest.
"A mentality that I try to promote to the team is to play with a chip on our shoulders. Many times we do not get the respect we deserve as a team; however, I think that this should motivate us to work even harder so that we can continue to prove ourselves on game day," Sopko said.
Speaking of grit and motivation to work hard, the sophomore attacker recalls his favorite memory, when the team beat nationally-ranked Yale in the 2018 season. Yale went on to win the national championship that year.
"My favorite moment in my career was beating Yale on the road last year," Sopko said. "We played them on a Wednesday night last year when they were ranked No. 3 in the country and nobody thought that we could win besides ourselves. After an emotional four quarters and overtime, we came out on top and showed the country that Bucknell was a team that could compete with any team in D1."
While Sopko's success on the field comes from hard work and grit, he derives his inspiration from his biggest supporters – his parents.
"Throughout my life, and especially at Bucknell, my parents have been my most important inspiration. They have come to every game in my career, and all that they ask of me is to try my hardest and have fun. Whenever the going gets tough, I think of all of the sacrifices that they have made for me to get here, which always gives me extra motivation to work my hardest and make them proud," Sopko said.
The Bison have two games remaining in Patriot League play, and with two wins they can secure a conference playoff slot.
"I am really looking forward to earning a spot in the PL Tournament and competing for a PL Championship," Sopko said. "Our record so far has not reflected how good of a team we really are, and everybody on the team is very confident that we can win a Patriot League Championship, so I am very excited to be competing for one."
CAREER STATS: (as of 4/17)
27 games played
45 goals
13 assists
(Visited 348 times, 1 visits today)