Athlete of the Week: Christian Klipstein '19, Men's Lacrosse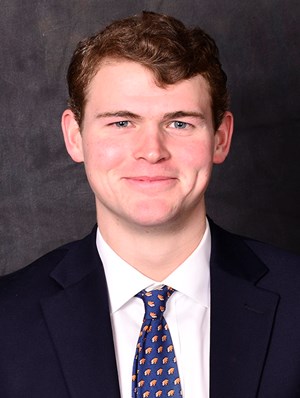 The men's lacrosse team has hit their stride, as they secured a win against top-ranked Lehigh on April 20. The current three-game win-streak can be largely attributed to none other than senior goalie Christian Klipstein '19. Klipstein stopped 15 shots in a must-win game against Lehigh to keep their playoff hopes alive.
As one of the four captains of the team, Klipstein pushes his team to hold a mentality that values both hard work and discipline.
"For me as a leader, I have always pushed for being the hardest working and most disciplined team in the country," Klipstein said. "My senior grade and I believe that the only way that you can really work as hard as you can, is if you know why you are doing it. So we challenged our team to really think about their why. For many guys on our team, their why is all about being with each other and not wanting this journey together to end."
When asked about his future aspirations, Klipstein said, "I plan on being a lacrosse coach after college so right away I think about coach Fedorjaka's influence on me. He has pushed our team every day and takes risks that many other coaches never would. I have loved playing for coach Fed and grown an even stronger passion for coaching because of him."
The experienced senior and future coach has drawn inspiration to play lacrosse from his brothers. He also attributes the success he's had since starting as a goalie his first-year to his former teammates.
"When it comes to playing lacrosse, I have always been inspired by my brothers, Ryan ['11] and Reaves [Army Class of 2017]," Klipstein said. "They paved the road for me and I just followed in their footsteps."
"While at Bucknell, I have learned from so many other great leaders like Thomas Flibotte ['16], Alex Spring ['16], Eric Monfort ['16], Will Sands ['18], and Matt Gilray ['18]. All of these guys showed me how to be successful at the college level, how to lead my teammates, and how to always enjoy the sport no matter what was happening."
The Bison have only recently been able to find their groove as they have struggled with challenges over the course of the season.
"I think one of our biggest challenges so far this season has been putting together a full 60 minutes. At times we look like we could beat anyone in the country, but there are also times where we don't bring total focus and we struggle. I think part of this was how young our team is, but as the season has gone on, I feel as if we are getting closer and closer to a full 60 minutes every game," Klipstein said.
When asked to recall his favorite memory from his career, Klipstein reminisced on an unusual but impactful memory.
"There have been a couple of big games that I look back on in my career that really mean something special to me," Klipstein said. "My freshman year we lost to Loyola in the semifinals in double overtime and I remember that game being one of the coolest games I had ever been a part of, but it was definitely painful to lose."
"My favorite wins throughout my career were probably Yale and Loyola last year and more recently beating Lehigh this year. This win against Lehigh was something special for our team this year because we really have put in so much work this year and it has taken a while to show up on the scoreboard against good teams, but it finally came to fruition against Lehigh this past weekend."
While the Bison head into their final regular season game against Colgate, Klipstein looks forward to enjoying every moment he has left as a Bison.
"As a senior with not much more time left I really look forward to every single day with the team. I know I will never have anything like this again so I'm just trying to take in everything I can. I am trying to not look far in advance, I just want to take it one game at a time and play like every game could be our last (because it could)," Klipstein said.
STATS: (as of 4/26)
56 games played
562 career saves
125 ground balls
(Visited 180 times, 1 visits today)