Athlete of the Week: Brooke Stark '20, Volleyball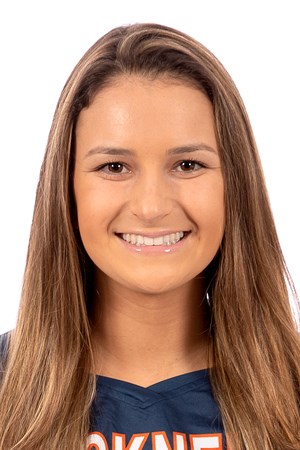 The Bison volleyball team has begun their season with an incredible first couple matches. With a current record of five wins and one loss, the Bison are dominating the competition. This has taken the efforts of every member of the team, but none more important than senior Brooke Stark.
This past weekend, Stark earned the coveted accomplishment of 1000 career digs.
"Hitting 1,000 digs this past Saturday felt amazing! It was special that my family had flown out for the tournament so they were here to share that with me," Stark said. "The best part was that my teammates and especially the older girls who have been with me through it all were just as/if not more excited for me than I was. I feel so lucky to have been able to share that with my best friends and it just made me more excited for the season and ready to give it my all this season."
Being one of the core leaders on the team, the senior libero sets a positive example and maintains a hardworking mindset. This mindset has helped propel the team to their more recent victories.
"As a leader, I try to keep everyone positive, focused and promote hard work. Our team culture this year is completely different than in the past couple of seasons. Every player and coach is just as invested as the next which makes being a leader much easier than it has been in the past," Stark said.
Stark credits her former teammates for inspiring her and serving as important role models.
"Hailey Stout '18, Kristen Parks '17, and Katie Price '16 were all Bison volleyball players that came before me and were amazing role models that I looked up to on and off the court. They were all extremely focused and hard workers over everything else and that is what I strive to be every day. They all gave 110 percent in everything they did, whether that be in Davis or in the classroom. They were people that you wanted to follow because you wanted to be like them and I have always found that the best leaders lead by example," Stark said. 
Leading by example is exactly what Stark portrays, even in the face of adversity. Facing an enduring personal injury has caused minor setbacks for the senior but has led to major comebacks. 
"Personally, I am having to deal with a recurring back issue, but I am trying to manage the injury the best I can so that I can be ready to compete every weekend. As a team, I don't see any concerns that we are facing currently! We are lucky to have everyone on the same page with what our goals are for this season and how we are going to get there," Stark said.
Reflecting on her time as a Bison, Brooke recalled one particular game that left a lasting impact. 
"My favorite memory is beating Lehigh at home in the 5th set my sophomore year. The game was really back and forth and in the end, it came down to who wanted it more. We had a bunch of fans that game so Davis was really loud and you could feel the excitement! Our team came up with two huge blocks to win the game and I still remember the last couple points. We were not expected to beat Lehigh and an underdog win is always the best," Stark said.
As the Bison gear up for another match this weekend, Stark is enjoying and cherishing every moment she has in her last season as a Bison volleyball player.
"I am looking forward to spending my last season with some of my best friends on and off the court and continuing to work towards our goal of making it to the Patriot League (PL) tournament. I am really excited to be able to surprise the PL teams that we faced last year with how much work we have put in and how many improvements we have made to the team and the program," Stark said. 
STATS (as of 9/11/19):
OFFENSIVE: 
Sets Played: 296
Kills: 10
Assists: 151
Aces: 79
DEFENSIVE:
Digs: 1027
Digs/Set: 3.47
Points: 89.0
(Visited 260 times, 1 visits today)