Athlete of the Week: Chris Tanabe '21, Men's Golf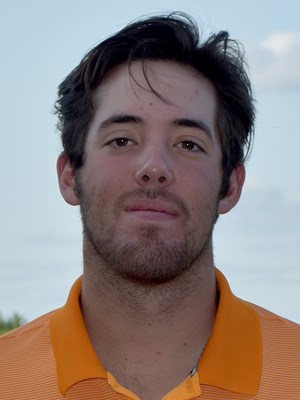 Golf sensation Chris Tanabe '21 recently shot a career-best of 4-under-par 67 at the Cornell Invitational this past weekend, collecting third place overall. Additionally, for the second straight week, the Bison men's golf team as a whole posted a great Sunday round into a second-place finish.
Tanabe, one of only two upperclassmen on the team, has developed into a strong leader and promotes a mentality that helps individuals and the team combat the tough mental sport.
"I try to promote the mentality of never being satisfied. Whether it's finishing first as a team or finishing last, I come to practice expecting myself and my teammates to work with the same incentive to improve," Tanabe said.
Due to a demanding competition schedule, the Bison men's golf team is faced with the challenge of balancing schoolwork and athletics from week to week. However, Tanabe and the rest of the team have found that balance excels both on the green and in the classroom.
"Golf travels more than most teams at Bucknell and we are entering the middle of season. We leave early on Fridays, sometimes even on Thursdays, and return late on Sundays," Tanabe said. "Balancing practice, competitions, and academics can be challenging and exhausting from week to week; however, these past two years at Bucknell have taught me how to manage my time to stay on top of my game in the classroom and on the course."
With a small roster, the team has grown close. Tanabe credits head coach Mike Binney as one of his biggest inspirations because of their close relationship.
"[Coach Binney] served in the United States Marine Corps for over 20 years and brings a lot of perspective to the team. Since my first day on campus, he has been a constant reminder to me that no matter what happens on the course to remember that I am privileged to attend and play for Bucknell University," Tanabe said. 
Tanabe recalls one of his best experiences with the Orange and Blue as the team's victory in the Quechee Club Collegiate Challenge hosted by Dartmouth College.
"My favorite memory from my career was our lone team win last year at Dartmouth. It was the first team win at Bucknell that I was able to experience. We shot Bucknell's men's golf single-round team record of seven-under-par coming back to win handily," Tanabe said.
As the Bison head into another competition-filled weekend out on the course, the Pennsylvania native says that he is looking forward to having the team reach its full potential.
"We have finished runner-up in the first two tournaments of the season and I'm excited to see what our team can do once we all play to our full potential. We are a very young team, with only one junior and one senior, but have been able to post rounds good enough to get us into contention each week," Tanabe said. "It's only a matter of time before we break through and our first tournament win as a team."
(Visited 185 times, 1 visits today)