Athlete of the Week: Olivia Harris '20, Field Hockey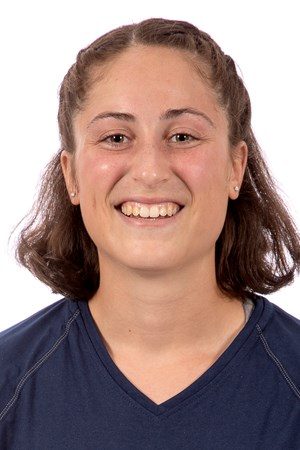 This past weekend, the Bison field hockey team started off Patriot League play and came out on top after two tough battles against Boston University and Sacred Heart University. The victories in both games were full team efforts; however, goalie Olivia Harris '20 secured the wins for the Bison.
Since taking over the starting spot during her junior campaign, the senior goalie has surpassed several records, making quite an impressive name for herself both on the collegiate and international level.
Harris, despite taking hits both on and off the field, focuses on creating a mentality that inspires her teammates to be calm and collected. 
"I try to instill calmness among the team. While this may not show through in the most obvious ways in games (as I am always screaming and directing players around), it is critical for me as a goalkeeper to not get frazzled," Harris said. "The mentality from the team largely comes from the back and if the defense is a mess, this mentality moves upwards to the midfield, then the forwards."
While many teams face challenges over the course of their season, Harris states that the main challenge the field hockey team faces is keeping a positive outlook.
"Momentum swings as a team and for me personally. It's an unfortunate given that every season in athletics has its ups and downs where you personally and/or the team plays amazing in some games and terrible in the next. They are always a concern as ideally you'd like to constantly remain 'on a roll,' however, the lows happen from time to time," Harris said. "Our goal would be to limit the number of 'bad games' we have."
What most people don't know is the type of surface that Division I field hockey plays on. 
"At the Division I level and practically anywhere else in the world, field hockey is never played on fuzzy, football turf; we play on a surface called astro turf and we water it. I was big into ice hockey when I was in high school, but because of the surface we often played on, you could not slide on the field," Harris said. "On watered astro, you can slide very similar to ice, so I began implementing aspects of the butterfly technique used in ice hockey goalkeeping. The half butterfly has become a staple of my technique and I can thank Henrik Lundqvist for that."
Harris recounts her favorite memory in the game against Patriot League rival American University in the 2018 season.
"My favorite memory is easily my stroke save against American last season. As they are one of our biggest rivals and it was a very close game, a lot was riding on this stroke. Just like PKs in soccer, the goalie is at a huge disadvantage and it is massively in favor for the team to score as they get a free shot so close to the net. Not only did I save the ball, but it was one of the best saves of my career as I dove left and saved it with the very tip of my glove," Harris said.
As the field hockey team continues on with their season, Harris looks forward to more games against rival league opponents, such as Lehigh and American. 
"We just beat Boston this past weekend, which is huge for our team. I'd like to keep the momentum from this up this season and continue to play good games and win," Harris said.
STATS: 
Games Played: 26
Goals against: 42
Saves: 128
Save Percent: 0.753
Shutouts: 5
(Visited 238 times, 1 visits today)