Athlete of the Week: Cooper Dolan '20, Men's Water Polo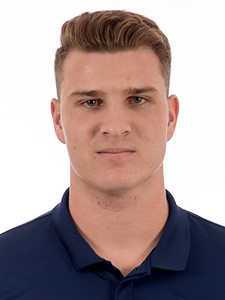 It is no secret that the Bison men's water polo team is extraordinarily talented and successful. However, what most fail to realize is the impact that senior Cooper Dolan '20 has had on the success of the team over the past three years.
Dolan, a center defender, has contributed to the successful seasons of the water polo team since his freshman campaign. The highly accoladed senior now leads by example to ensure success. 
"I do my best to promote mental fortitude by not letting the other team's activities derail my focus. I don't emotionally react to what happens in the game, which allows me to stay focused on making the next right decision," Dolan said. "Our whole team does a great job of staying composed and calm under pressure, which allows us to feel comfortable in uncomfortable situations."
Dolan derives his inspiration and leadership skills from his men's and women's water polo head coach John McBride.
"My coach inspires me to be a better leader in the pool and a better man outside of it. He holds us to an extremely high standard and I will do my best to continue to set these standards for myself after my time at Bucknell is finished," Dolan said.
Despite their recent success, the men's water polo team has encountered some challenges so far this season. 
"Our team lost two tough games to UC San Diego and Fordham University over the past few weekends. We learned a lot from these games and look forward to bringing these lessons to the rest of our competition. As long as we continue to focus on our game and keep growing together as a team, we will give ourselves the best chance to overcome every challenge," Dolan said.
Due to the team's high-achieving standards and status, Dolan finds it hard to recount just one moment that serves as his favorite memory.
"Winning conference championships freshman year and qualifying for the NCAA Championship for the first time in 30 years is probably my favorite part of my career. It's difficult to pick one memory or moment, which in retrospect is a good thing because it means I've had some great times over the past few years," Dolan said.
(Visited 260 times, 1 visits today)