LGBTQ Support List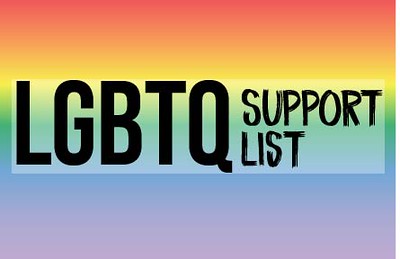 October 11th is International Coming Out Day and will be celebrated on college campuses and at other events around the globe. This year the Office of Lesbian, Gay, Bisexual, Trans*, and Queer Resources, the Gender & Sexuality Alliance (GSA) and the Bucknellian will be publishing the 13th annual list of Bucknell students and 19th annual list of Bucknell administrators, faculty, and staff who are willing to be identified as supporters of an individual's right to be themself.
I also acknowledge the importance to publicly state my support of the LGBTQ community to ensure that those who are not yet out know there are folks on campus who will support and accept them. By submitting my name below, I pledge to work to challenge myself and those around me to actively create a living and learning environment that is supportive and affirming of LGBTQ+ identities, cultures and experiences.This may include working with and advocating for the needs of these members of the community and interpersonal changes such as offering and asking pronouns.
Graduate Students
Emma Downey
Terry Howson
Jon Hunsberger
Safiyyah Jihad Levine
Cheyenne Moore
Phuong Nguyen
Laura Nicolle
Mauricio Valdés Baeza
Class of 2020
Joelle Andres-Beck
Ariel Antoine
Charlotte Artesani
Adele Belgrad
Bridget Beljan
Jen Borowka
Faith Breen
Korliss Britt
Chloe Burgess
Sara Butler
India Carpenter
Marie Catanese
Clare Cheng
Hye Won Cho
Indigo Clingerman
Elise Covert
John Davidian
Emma Dolen
Eden Elam
Raeanne Geffert
Mike Gerber
Fallon Goldberg
Eli Goldfeder
Quentin Griffon
Alisa Hardy
Olivia Harris
Erin Hausmann
Chandler Houldin
James Jennings
Rachel Johnson
Anna Karnes
Xinyi Li
Olivia Loome
Brishti Mandal
Soni Madnani
Cheyenne McKinley
Okkar Min
Esmely Munoz
Kathryn Nicolai
Effiem Obasi
Nicole O'Connor
Briannally Ortiz
Miyah Powe
Emily Pursel
Gray Reid
Dylan "Wiki" Rogers
Sam Rosenblatt
Jessica Schlicht
Amy Schlussler
Esha Sharma
Benjamin Siciliano
Emma Smith
Tylan Smith
Alex Spann
Logan Springer
Sophie Springer
Uchechukwu Unigwe
Levi Wolf
Janey Woo
Mackenna Woods
Xuan Zou
Class of 2021
Patience Agasaro
Madeleine Atwood
Sarah Baldwin
Ariel Booker
Kaitlin Bonacci
Alexis Catsoulis
Maxwell Code
Eliyah Cofield
Mary Collier
Mateo Conde
Rikley Costa Paixao
Khanique Cowans
Libby Darrell
Ciara Davis
Klaudia DeFrank
Gari Eberly
Charlie Espy
Nathan Feyrer
Nate Freed
Joshua Gesselberty
Gryff Griffin
Kip Hallagan
Jeffrey Heim
Talia Housman
Grace Ingebretsen
Jackson Ingram
Hollis Jacoby
Suphanat Juengprasertsak
Jessica Kaplan
Rachel Keselman
Gabby Kessel
Alex Kinsman
Yuki Komura
Helen Lauterbach
Laura Le
Spandan Marasini
Mary Marshall
Carly Masonheimer
Kiera Mastropietro
Rashid Mills
Evelin Morales
Sheila Mwangi
Anjali Patel
Stephanie Person
Aung Pyae Phyo
Carolina Reyes
Karen Santizo
Lillian Shaner
Delia Sipe
Kristin Smith
Shane Staret
Craig Terry Jr.
Taylor Wolfgang
Christina Yu
Class of 2022
Chanzé Ahsan
Asteri Aliaj
Akil Atkins
Alexander Boyer
Maya Brown
Carolyn Campbell
Lauren Canna
Melissa Capano
Matt Cimino
Ruby Cordova
Sydney Dickinson
Jacob Feuerstein
Mackenzie Flynn
Jailyn Forde
Kareen George
Paris Grigsby
Rid Hagos
Emma James
Cheyenne Katz
Elizabeth Lagerback
Sage Lamade
Ngoc Le
Georgia Lewis
Maddy Mallory
Jeniah Martin
Rachel Martin
Bree McCullough
Rachel Milio
Holly Miranda
Nydea Ortega
Katherine Pan
Griffin Perrault
Khanh Pham
Michelle Pham
Minh Anh Phan
Natalie Ring
Hallie Robin
Tatiana Roman
Justin Schaumberger
Alexandra Schneider
Emily Scholfield
Lily Shorney
Otis Skitch
Brandt Sliver
Meghan Taner
Julia Tokish
Magui Torres
Raven Truxson
Brandon Vessels
Sam Warren
Douglas Wright
Class of 2023
Jessica Atwood
Nahom Ayele
Mia Bohi-Green
Yathaswee Chhetry
Allure Cooper
Azhani Duncan-Reese
Kayla Gaughan
Allison Gerhard
Alexander Greenawald
Sophie Guichardan
Jerra Holdip
Hannah Holmes
Kira Jessup
Maddie Kear
Georgia Lambrakis
Isabelle 
Levesque-Du Bose
Zachary Mahaney
Shelby May
Isaiah Mays
Jennifer McIntosh
Christian Melgar
Bryan Nelson
Kate Normandin
John Peña
Sydney Polinchock
Jimmy Pronchick
Sarah Rodriguez
Ricky Rodriguez
Elle Satterthwaite
Miranda Shearer
Cameron Small
Leila Sor
Fatima Sow
Sophia Spears
Lauren Sullivan
Sami Wright
Faculty and Staff:
Accounting and Financial Management
Frank Schreiner, associate professor of finance
Admissions
Brett Basom, Associate Director for International Recruitment
Phoenix Dressler, Information Systems Specialist
Chrissy Findlay, Associate Dean
Becca Haupt, Senior Assistant Director
Danielle Kiesinger, Asst. Director and Information Systems Coordinator for Admissions
Kelly Kurtz, Specialist for On Campus Daily Visitation programs
Ryan Lecky, Off-Campus Recruitment Coordinator
Kevin Mathes, Dean of Admissions
Caro Mercado, Associate Dean/Director of Partnerships
Lauren Rambo, Senior Assistant Director of Admissions
Joshua Wilkinson, Associate Director of Admissions for Communications
Advancement & Info Ser/Gift Process
Gretchen Croteau, Assistant Director
Lorie Hernesh, Marketing, Research & Strategy Assistant
Africana Studies
Jaye Austin Williams, Asst. Professor
Alumni Relations
Brianne Croteau, Assistant Director, University Advancement Events
Patti Flannery, Associate Director, Alumni Relations
Todd Leister, Assistant Director for Off-Campus Programming
Kim Thompson, Associate Director, DEI and Operations
Kaitlin Wagner, Assistant Director
Chris Watters, Snr. Associate Director, Alumni Relations
Annual Fund
Kelly Kreisher, Assistant Director, Annual Fund Individual Giving
Art & Art History
Tulu Bayar, Professor of Art
Melissa Kilgus, Academic Assistant
Athletics & Recreation
Richard Alexander, Associate Head Track and Field Coach
Anna Allison, Head Coach
Jeremy Cook, Head Field Hockey Coach
Kelly Cook, Head Women's Soccer Coach
Joey Lye, Head Softball Coach
Candace McCoy, Women's Equipment Room Manager
Bruce Myers, Head Men's Tennis Coach
Tim Pavlechko, Deputy Athletics Director
Remington Steele, Head Women's Lacrosse Coach
Dan Wolleben, Men's Crew Head Coach
Biology
Morgan Benowitz-Fredericks, Associate Professor
Cecilia Bove, Visiting Assistant Professor
Elizabeth Capaldi, High Priestess
Moria Chambers, Assistant Professor of Biology
Ken Field, Associate Chair
Julie Gates, Associate Professor
Mark Haussmann, Professor
Matthew Heintzelman, Associate Professor
Steve Jordan, Professor
Sarah Lower, Assistant Professor
Chris Martine, Burpee Professor
Matt McTammany, Associate professor
Leocadia Paliulis, Professor
Greg Pask, Professor
Marie Pizzorno, Assoc. Prof.
DeeAnn Reeder, Professor
C. Tristan Stayton, Assistant Professor
Rebekah Stevenson, Biology Lab Instructor
Emily Stowe, Associate professor of Biology
Mizuki Takahashi, Associate Professor
Kate Toner, Lab Director
Biomedical Engineering
Eric Kennedy, Associate Professor
Kim Schon, Academic Assistant
Bucknell Dining
Jeff Van Sant, Asst Dir. of Board Operations
Bucknell Student Health
Melissa Allen, RN Student Educator
Crystal Bucher, front office staff
Lisa Malick, CMA
Mandy Olley, Insurance Liaison
Catherine O'Neil, MEdical Director Student Health
Robin Schaech, Patient Access Representative
Tonya Walter, LPN
Tanya Williams, University Dietitian
Bucknell University Press
Pamelia Dailey, Managing Editor
Campus Activities & Programs
Amy Beward, Office Coordinator
Kari Conrad, Associate Dean of Students
Sarah Morris, Assistant Director of Outdoor Education & Leadership
Wendy O'Hara, Office Assistant
Brent Papson, Director of Campus Activities and Student Media
Sabrina Shankar, Assistant Director of Campus Activities
Nate Smith, Director, Outdoor Education & Leadership
Center for Career Advancement
Sarah Bell, Senior Associate Director
Julee Bertsch, Career Coach
Emily Dietrich, Assistant Director, Industry Spotlights
Pam Keiser, Executive Director, Career Services
Kathe Kennedy, Finance Industry Career Coach
Alison Ordonez, Associate Director
Rachel Redmond, Assistant Director, Externships
Marilyn Shull, Sr. Asst. Director
Megan Wolleben, Senior Asst Director
Center for Sustainability & Environment
Adrienne Goudy, Office Assistant
Chaplains & Religious Life
Kurt Nelson, Director of Religious & Spiritual Life
Chemical Engineering
Margot Vigeant, Professor
Chemistry
Raeanne Geffert, Student Athlete
Linda Godfrey, Academic Assistant
Patrick Martino, Lab Director
Molly McGuire, Assoc. Professor of Chemistry
Erica Merriett, Chemistry Lab Director
Civic Engagement
Kyle Bray, Assistant Director of Service-Learning
Lynn Pierson, Assistant Director
Jen Schneidman Partica, Farm & Garden Coordinator
Sarah Wochele, Education & Outreach Coordinator (AmeriCorps member)
Civil and Environmental Engineering
Stephen Buonopane, Associate Professor
Kevin Gilmore, Assoc. Prof.
Deborah Sills, Assistant Professor
Classics and Mediterranean Studies
Kris Trego, Assoc. Prof.
College of Arts & Sciences, Deans' Office
Lynn Breyfogle, Associate Dean/Professor of Mathematics
Kim Councill, Associate Dean of Faculty – Arts & Humanities
Lisa Hemrick, Office Coordinator
College of Engineering, Deans' Office
Liz Clark, Student & Faculty Services
Amy Downs, Executive Assistant
Freeman College of Management, Dean's Office
Mihai Banciu, Associate Dean of Faculty
Amy Levan, Executive Assistant
Bethany Slear, Graduate Intern of Experiential Programs
Communications
Adrienne Beaver, Associate Director, Design
Donna Glass, Graphic Designer
Debbie Hirsch, Graphic Designer
Matt Hughes, Associate Director for Editorial Content Strategy
Sherri Kimmel, Editor, Bucknell Magazine
Leah Mallett, Associate Director of Digital & Social Media
Ellen Robinson, Web Support Specialist
Lisa Scott, Sr. Director of Creative Services
Tristan Scott, Web Support Assistant
Stephanie Zettlemoyer, Web Support Specialist
Comparative Humanities Program
John Hunter, Professor
Computer Science
Xiannong Meng, Professor of Computer Science
April Ritter, Academic Assistant
Counseling & Student Development
Lee Bard II, Staff Counselor, LGBTQ+ Specialist
Kelly Kettlewell, Director
Cherl Kling, Counselor/AOD Specialist
Marina Shafran, Associate Director
Kelly Shaw, Staff Psychologist
Dean of Students, Diversity and Inclusion
Denlle Brown, Associate Dean of Students for Diversity and Inclusion
Miriah Royal, Office Coordinator
Dean of Students, Office of
Amy Badal, Dean of Students
Kate Grimes, Title IX Coordinator
Becca Geiger, Interpersonal Violence Prevention Coordinator
Lewis Marrara, Asst. Dean of Students

Development
Mark Elliott, Senior Development Advisor
Sarah Kline, Associate Director, Prospect Management and Analysis
Donor & Volunteer Recognition
Amber Fetterolf, Stewardship and Donor Relations Manager
East Asian Studies
Erik Lofgren, Associate Professor
Yunjing Xu, Assistant Professor
Economics
Nina Banks, Associate Professor of Economics
Rachel Landsman, Assistant Professor
Education
Tara Baglivo, Miss
Abe Feuerstein, Professor
Amy Golightly, Associate Professor
Sue Ellen Henry, Professor
Sarah MacKenzie-Dawson, Associate Professor
Electrical & Computer Engineering
Joe Hass, Visiting Assistant Professor
David Kelley, Associate Professor
Melanie Scurto, Academic Assistant
English
Jeremy Chow, Assistant Professor
Dr. Chase Gregory, Assistant Professor
Kat Lecky, Assistant Professor
Denise Lewis, Academic Assistant
Elena Machado, Professor
Maggie Millner, Stadler Fellow in Poetry
Joseph Scapellato, Assistant Professor
Virginia Zimmerman, Professor
Environmental Studies
Jessica Pouchet, Assistant Professor
Events Management Office
Aleece Butler, Assistant Director, Events Management
Candice McGaw, Assistant Director
Maredith Spangler, ​Scheduling and Events Coordinator
Facilities
Brian Fritz, Associate Director
Morgan Moses, Mrs.
Michelle Moyer, Groundskeeper
Donald Rager   Jr, Control Tech
Megan Scherer, Director of Business Operations
Mary Schramm, Operations area Mananger Center Campuss
Chris Small, Associate Director of Operations
John Testa, Grounds Manager
Financial Aid
Andrea Leithner Stauffer, Director of Financial Aid
Erin Wolfe, Associate Director
Geography
Duane Griffin, Assoc. Prof.
Paul Susman, Professor
Global & Off-campus Education
Julie Rowe, Operations Manager
Marguerite Santorine, Global Education Advisor
History
Liz Loss, Academic Assistant
Jennifer Thomson, Assistant Professor
Martha Verbrugge, Professor Emerita
Human Resources
Cindy Bilger, Director of HRIS & Benefits
Kelly Dinan, Recruitment Consultant
Nancy Foster, Executive Assistant
Institutional Research & Planning
Laura Winger, Reports Coordinator/Analyst
International Student Services
Bibiana Hernandez-Bello, Assistant Director, ISS
Languages, Cultures, & Linguistics
Shiloh Drake, Visiting Assistant Professor in Linguistics
Pamela Glass, Academic Assistant
Renee Gosson, Associate Professor
Peter Keitel, Professor of German Studies
Jim Lavine, Professor of Linguistics
LGBTQ Resources
Bill McCoy, Director
Library & Information Technology
Toni Baylets-Holsinger, L&IT Procurement and Asset Analyst
Param Bedi, Vice President
Wes Bernstein, Digital Pedagogy & Scholarship specialist
Abby Brown, Project Manager
Mary Ann Burkland, Asst. Director for Technology Support
Jeffrey Campbell, Event Technology Support Specialist
George Casper, Sr. Tech Support Specialist
Eir Danielson, Assistant University Archivist + Records Management Coordinator
Galen Dunkleberger, Associate Director, Software Engineering & Architecture
Stephanie Farnsworth, Assistant Director, Network&Telephony
Ken Flerlage, Assistant Director, Data Analytics
Nancy Frazier, Instructional Services librarian
Katherine Furlong, Executive Director, Research Services & Digital Scholarship
Janine Glathar, GIS Specialist
Jesse Greenawalt, Event Technology Support Specialist
Morgan Greenly, Library Services Desk Assistant
Jill Hallam-Miller, Director, Research Services and Information Literacy
Jennifer Harper, Associate Director, Enterprise Technologies Systems
Leslie Harris, Digital Pedagogy Specialist
Dan Heuer, Head of Discovery & Access Services
Bud Hiller, Technology Desk Manager
Benjamin Hoover, Library Services Specialist
Tracy Hower, Executive Assistant to the VP for Library & IT
Wade Hutchison, Systems Engineer
Diane Jakacki, Digital Scholarship Coordinator
Agnes Jasinska, Data Services Specialist
Brandon Karcher, Digital Pedagogy & Scholarship Specialist
Doug LeBlanc, Data Analytics Engineer
Daniel Mancusi, Software Engineer
Jon Marriott, Network Engineer
Pam Mitchell, Admin Asst
Stephen O'Hara, Director of Technology Services
Isabella O'Neill, Head, Special Collections & University Archivist
Carrie Pirmann, Social Sciences Librarian
Cindy Ray, Ass't Dir., Classroom Technology Support
Melissa Rycroft, Manager, Technology Training
Jason Snyder, Librarian/Manager of Communications and Outreach
Peggy Straub, Telecommunications Systems Administrator
James Van Fleet, Research Services Librarian
Lisa Veloz, Director of Project & Initiative Management
Kevin Willey, Executive Director of Enterprise Technologies
Living, Learning & Leadership
Natalie Brewster, Director of Fraternity and Sorority Affairs
Traci Eschbach, Community Director
Jane Grassadonia, Associate Dean for Living, Learning & Leadership
Robert Leibel, Community Director
Jillian Padilla, Community Director of RTK & Gateways Halls
Management & Organizations
Ed Ng, Professor
Markets, Innovation & Design
Eric Santanen, Assoc Professor
Mathematics
Emily Dryden, Professor
Abby Flynt, Associate Professor
Sharon Garthwaite, Assoc. Prof.
Peter McNamara, Professor
Mechanical Engineering
Craig Beal, Assistant Professor
Keith Buffinton, Professor
Wendelin Wright, Professor
Multicultural Student Services
Rosalie Rodriguez, Director of Multicultural Student Services
Lizandra Suarez Perez Program Assistant
Music
Bethany Collier, Associate Professor
Qing Jiang, Dr.
William Kenny, Professor of Music
Barry Long, Associate Professor and Chair
Ryan Malone, Assistant Professor
Emily Martin, Assistant Professor of Music
Nicholas Roseth, Visiting Assistant Professor of Music
Sezi Seskir, Assistant Professor
Bonnie Smith, Academic Assistant
Marcus Smolensky, Dr.
Beth Willer, Assistant Professor, Music
Office of Sponsored Projects
Robert Gutierrez, Executive Director
Rhonda Newton, Grants Coordinator
Parents Fund and Family Programs
Amy Baker, Program Director, Communications
Physics and Astronomy
Katelyn Allers, Prof
Political Science
Courtney Burns, Assistant Professor
Amy McCready, Associate Professor
President's Office
John Bravman, President
Carol Kennedy, Executive Director – Office of the President & University Secretary
Prospect Research & Management
Michelle Imm, Asst Dir
Provost's Office
Sue Conway, Executive Assistant to the Provost
Gretchen Fegley, Graduate Studies & Summer Session
Heather Fowler, Director, Office of Accessibility Resources
Jenn Holdren, Office Assistant
Robert Midkiff, Vice Provost
Karen Morin, Associate Provost, Professor of Geography
Kristen Rarig, Office of Accessibility Resources
Amie Reif, Office Assistant
Marlene Wertz, OAR Coordinator
Nikki Young, Interim Associate Provost for Diversity, Equity, and Inclusion
Psychology
Jess Hom, Miss
William Horton, Visiting Assistant Professor
Jasmine Mena, Assistant Professor
Kevin Myers, Professor
Public Safety
Steve Barilar, Chief
Selena Blue, Manager of Communications & Security Tech.
Brenda Housner, Office Assistant/Budget Coordinator
Publications, Print & Mail
Edye Newman, Office Assistant
Kristi Steinbacher, Publications Technician
Registrar's Office
Jennifer Borch, Transcript Coordinator
Tim Kracker, Associate Registrar
Sarah Paris, Transfer Records Coordinator
Religion
John Penniman, Assistant Professor
Carol Wayne White, Professor
Residential College Program
Megan Adams, Operations Specialist
Kelly Finley, Program Director
Samek Art Museum
Richard Rinehart, Director
SBDC Administrative Program
Steven Stumbris, Director
Sociology & Anthropology
Deborah Abowitz, Professor
Karen Altendorf, VAP
Clare Sammells, Assoc. Prof. of Anthropology
Spanish Department
Jose Figueroa, Lecturer of Spanish
E Guerrero, Professor
Julie Guinn-Bailey, Academic Asst. Spanish/East Asian Studies
Collin McKinney, Associate Professor
Stadler Center for Poetry
Andrew Ciotola, Program Mangaer
Stewardship and Donor Relations
Rhonda Miller, Director of Stewardship & Donor Relations
Student Mail Services
Mindy Yost, Mail Services Assistant
Study of Race, Ethnicity & Gender
Martha Shaunessy, Academic Assistant
Teaching & Learning Center
Katie Daly, Assistant Director Student Learning Support
Theatre & Dance
Paula Davis, Associate Professor
Bob Gainer, Professor Emeritus
Mark Hutchinson, Technical Director for Theatre and Dance
Kelly Knox, Associate Professor
Dustyn Martincich, Associate Professor of Theatre and Dance
Bryan M. Vandevender, Assistant Professor of Theatre
F. ELAINE WILLIAMS, SCENOGRAPHER
VP Advancement
Kathleen Graham, Associate Vice President
Lucille Tarin, Executive Director, Advancement Strategy Integration
VP for Enrollment Management
Holly Gauger, Administrative Assist
Weis Center
Kathryn Maguet, Executive Director
Rachel Martine, Artist Liaison
Women & Gender Studies
Jenna Christian, Visiting Assistant Professor
Coralynn Davis, Professor of Women's and Gender Studies; Faculty Director for Academic Civic Engagement
Erica Delsandro, Assistant Professor
Susan Reed, Ms.
Women's Resource Center
Kelsey Hicks, Director
Writing Center
Margaret Cronin, Writing and Teaching Consultant
Loren Gustafson, Writing and Teaching Consultant
Sabrina Kirby, Writing and Teaching Consultant
(Visited 2,957 times, 1 visits today)