Football comes up just short against Holy Cross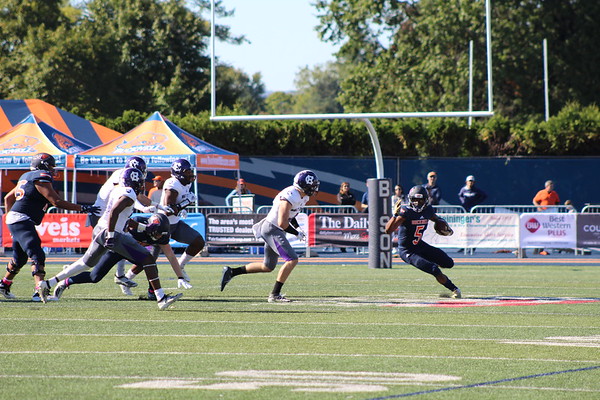 The Bison football team competed against the Holy Cross Crusaders at Christy Mathewson-Memorial Stadium during Homecoming weekend on Oct. 5. Despite putting up a valiant fight, the Orange and Blue came up short with a 21-14 loss in its Patriot League opener. Wide receiver Brandon Sanders '22 set a school single-game record with 14 receptions and finished the game with 122 receiving yards.
"It's obviously awesome to be able to be put in positions to do things like break school records and perform so that you are able to be recognized, but I wouldn't have been able to do it without the help of so many others," Sanders said. "Without the entire offense opening up the defense to allow me to get open and make plays, none of those accolades would have been possible, so I credit them first and foremost. In the end, we didn't come out with a win, so there is always more on the table, and I can't be satisfied until we leave the field knowing there was nothing left for us to do."
The Bison had an impressive start against the Crusaders, jumping ahead 14-0 before the Crusaders could get on the board. Linebacker Gerrit Van Itallie '21 and running back Chad Freshnock '20 each found the end zone to put the Orange and Blue on top.
The Bison scored in the first five minutes of the second quarter. Linebacker Simeon Page '21 initiated a drive for the Bison as he blocked and recovered a punt at the Crusader 38-yard line. Freshnock ultimately capped the drive with a touchdown after a crucial 14-yard rush on a 3rd and 5 by quarterback Logan Bitikofer '21. Van Itallie tallied his first career pick-6 after returning an interception 52 yards for a score. The Crusaders rallied, however, and the two teams were tied 14-14 going into halftime.
Entering the third quarter, the Bison were determined to put up more points on the board. Bitikofer advanced the Bison from their own 19-yard line to the Crusaders' 20, completing three passes for 26 yards. Freshnock added 16 rushing yards. The Crusaders then blocked the Bison's 37-yard field goal attempt, giving Holy Cross the ball back at their own 39. This drive led to a Crusaders touchdown run a few possessions later, bringing the score to 21-14 in favor of the visitors.
Trailing by a touchdown, the Orange and Blue got possession of the ball back with 8:59 to play in the game after defensive lineman Joe Schiano's '20 sack. The Bison drove from their own 32 to the Crusaders' 18-yard line. Wide receiver Dominic Lyles '22 played a key part in getting the Bison to the red zone. On 4th and 15, the Bison attempted a 40-yard field goal which went wide left, allowing the Crusaders to stall the last 4:27 in regulation with a score of 21-14.
The Bison ended the game with six penalties, costing the team 55 yards. The Bison's defensive efforts proved strong, as they posted four sacks and seven tackles as a team. Cornerback Gavin Pringle '23 and linebacker Rick Mottram '21 collected a game-high of nine tackles each. Freshnock contributed 78 rushing yards on 14 carries.
Bitikofer ended the game completing 20 of 29 passes for 185 yards. Van Itallie and safety Conner Romango '21 each picked off passes while defensive lineman Nnamdi Unachukwu '21 added two sacks. All-American punter Alex Pechin '20 averaged 48.5 yards on six punts.
"Obviously it was disappointing to lose such a close game, but we played solid on offense, defense and special teams, besides a few costly mistakes," Mottram said. "There were a lot of positives such as Brandon Sanders breaking the single-game reception record and having four sacks as a defense that gives us a lot of confidence as we move into league play." 
Next up for the Bison is a trip to New York to face the Patriot League reigning champion Colgate on Oct. 12.
(Visited 155 times, 1 visits today)