Where are they now?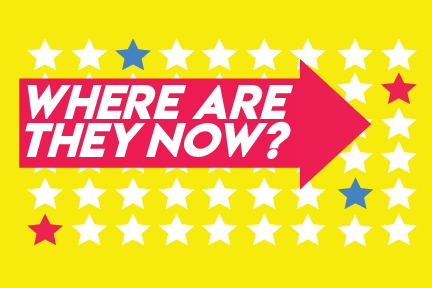 With an alumni network of over 54,000 former students, it is no wonder that the University boasts its ability to connect its current students with those who have graduated. Through the University's networking resources — including the University's Alumni App, on-campus and regional career networking events and occasions like Homecoming and Reunion Weekend — alumni can keep close ties to the University and its students. 
And with the 2019 Homecoming Weekend passing this last weekend, thinking of our beloved graduates is inevitable.
So, what are our young alumni up to?
Jill Gosling '19
Jill Gosling '19, an education and psychology major while at the University, currently works at Cincinnati Children's Hospital as a psychometrist in the outpatient and inpatient psychiatric center. "I essentially work under all the psychologists and administer all the testing for them. Most of the tests I run are focused on IQ, academics, memory and attention, personality, and any other skills [or] problem areas the doctors want to assess," Gosling said. "In general, the doctors hope to get an idea of [the patient's] cognitive functioning and how that affects (and is affected by) the child's psychological functioning."
Reflecting on her time at the University, Gosling remarked how her professors played pivotal roles in suggesting and helping her secure an off-campus job her senior year — one which prepared her for working as a psychometrist. "I learned so much about the problems these kids have, so it's really cool to put it all to use [now] and see it first-hand. The [University's] education was so incredible because the learning environment allowed for such close work with professors…without that [aspect] I wouldn't have gotten that job."
Favorite University Classes
From the array of classes she was enrolled in while at the University, Gosling picked Child Health Psychology with Assistant Professor of Psychology Anna Baker, and Culture and Child Development with Professor of Psychology Chris Boyatzis to be two of her favorites. Also, one of her favorite University  experiences was staying on-campus and "securing an internship at Geisinger's Autism and Developmental Medicine Institute over one summer."
Advice to Current Students 
Gosling's advice to students would be to "take advantage of all the opportunities the small size of the school can bring. Just talking to a professor can open so many doors for so many experiences. Also, take advantage of the alumni network. I'd say almost all alumni are happy to talk to undergrads and help them out, so don't be afraid to shoot them an email even if you've never met them!"
Reid Sanchez '18
Having graduated in 2018 with a degree in mechanical engineering, Reid Sanchez '18 recently moved to work at The Washington Post, as a member of its Business Intelligence team. "I work on the optimization and analysis of our digital advertising sales and strategy," Sanchez said. "Prior to starting at The Post, I worked at Gannett (The USA TODAY Network) … in a similar role with a focus on digital web optimization and analysis. At Gannett, I led the analysis and optimization efforts of the sitewide redesign of our flagship brand, USA TODAY, as well as other projects focusing on the optimization of the Network's hundreds of brands and partners."
Addressing the source of panic for several first-year students deciding on a major, Sanchez explained that one's major does not seemingly have to be related to his or her career. "At [the University] I studied mechanical engineering, which is definitely pretty far from Business Intelligence and Data Analytics. But I think everything I learned at [the University] gave me a good foundation to build the skills that I've had to learn on the job."
Sanchez also took away plenty of skills from the University, which prepared him for his career. He called them "the soft skills," the "ability to communicate, work on cross-functional teams and pick up new skills quickly" and pursue "opportunities outside of [one's] area of focus and comfort zone." 
Favorite University Classes
 Sanchez's favorite course, which he took his senior year, was Leadership Theory with Professor William Gruver. "The course was incredibly challenging," Sanchez said. "Professor Gruver constantly pushed us on our thoughts and made us ensure that we were always thoroughly prepared to back up arguments with well-documented and credible sources."
Sanchez said that Gruver's policy of holding students accountable is a feature of the class he appreciated because it prepared him to be overprepared for his life later on. "This class also gave us the chance to learn from and have an open and honest dialogue with incredible leaders from across a variety of industries, Professor Gruver himself being one of them."
Advice to Current Students
When asked this question, Sanchez advised that students explore as many opportunities on campus as possible, whether related to their major or not. "This is one of the best times in your life to try new opportunities," Sanchez said. "Even if you pursue something you decide isn't of interest to you, it will help you become more comfortable with picking up new skills and being adaptable."
"Don't feel like you have to have figured out your career path or first job before graduation. Your first job does not have to be your dream job, and likely won't be, but make sure that with whatever you end up doing, you fully invest yourself in it," Sanchez said.
 Andy Jacobs '14
Andy Jacobs '14 graduated from the University with a degree in Management. Since graduation, Jacobs has been working in the film and television industry, first holding a career at Lionsgate Entertainment and now with Discovery, Inc. While Jacobs was originally employed in Film Distribution and Business Affairs, he currently deals with Production Management.
"Having graduated from the School of Management, quite a few of my daily activities do relate to my major," Jacobs said. "My team works with producers [and] production companies to negotiate budgets for television shows, assess ROI (Return on Investment), and subsequently manage the long process of bringing a show in on time and on budget per a negotiated cash flow." 
"Some of the negotiating and management skills I learned [at the University] also come in handy when negotiating various deal points or trying to figure out the best way to navigate a business relationship (both internal and external)," Jacobs said.
In addition, while attending the University Jacobs learned other skills, including how to live independently with his friends off-campus. "We learned how to set up utilities, pay bills, grocery shop, throw a party (responsibly, of course), maintain a home."
Favorite University Classes
Jacobs' favorite courses included: Management 101, Organization Theory, Stakeholder Organization, Decision Science, Corporate Finance, Astronomy, Marketing, and American Poetry. 
"The subjects of these courses were super interesting (and ended up being super useful in the workforce and in life) but I also loved the professors who made them special – Eric Martin, Janice Traflet, Stephen Brady, David Jensen, Katelyn Allers, Tim Sweeney, Stacy Mastrolia," Jacobs said. "Beyond the curriculum, I often reflect on tidbits of personal advice and perspectives they shared with our classes that have really stuck with me and have made a difference."
Advice to Current Students 
"I would advise you to stay at [the University] forever," Jacobs said. "But since you can't (and probably shouldn't), just live every day on campus to the fullest. Imagine for a moment that you will be a 27-year-old dude one day sitting at a desk in an office building in L.A., looking back on all the fun you had, all the friends you've made, and all the insightful classes you took. Ensure the inevitable reminiscing that 'future you' will be doing is interesting by joining a new club, trying out the squash courts, taking an exploratory walk around campus, or talking to somebody new."
(Visited 326 times, 1 visits today)