Athlete of the Week: Conner Romango '21, football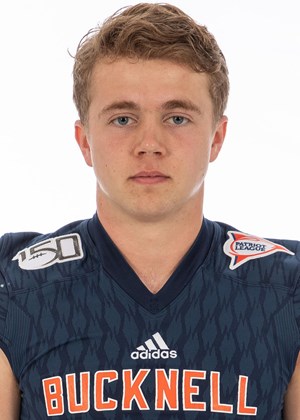 With the football season well underway, the Bison have faced tough out-of-league opponents and begun league play with a 21-14 loss to Holy Cross this weekend. Despite facing some fierce competition, the football team has achieved some success as a team and as individuals.
Junior Conner Romango '21 is among the secret weapons that have kept the Bison alive in their last few games. The 5'11" safety, who had until this season been a reserve player, has excelled in his position. Romango, or "Mango" as his team has nicknamed him, now boasts a total of 36 tackles, 27 of those being solo tackles.
With these kinds of stats, the hidden talent leads his team by example. Romango promotes a mentality that focuses on "a high competitive nature that prioritizes doing all the team can be to be successful both on and off the field." 
"Being able to compete and win is great but at times we can forget that we started playing the game because it was fun. I think it is always good to remember that we play the game because it is fun and to always try to remind guys that and enjoy what we do," Romango said. 
Romango finds it hard to recall a specific moment or memory that could be considered his favorite. Instead, being a huge team player, Romango says that he enjoys the "sense of family" and finds his overall favorite times to be when he is "just hanging out with the other guys on the team." 
"There have been a lot of good memories I have throughout my two years here. Most of them are just from being able to be around the guys on the team, but one moment that sticks out to me is when we won on a last-second field goal against Sacred Heart University. It was a really crazy moment and was something that was special to be able to experience," Romango said.
Speaking of his teammates, Romango credits the class of 2019 for inspiring him and teaching him the tools that has allowed him to be successful on the field. He specifically mentions Joe Lauro '19, Bryce Sydnor '19, Drew Newcomb '19 and Chanse Riley '19 as the people who "really influenced a lot of things I try to implement in my game I really just tried to learn as much as I could from those guys for the two years I was here with them and they taught me a lot."
While the season is well underway, the football team has just started league play. Despite their record of 0-5, the football team is more than capable of coming out on top of the league. However, with the start of league play comes a common collection of challenges.
"All teams face challenges and we've had to face plenty this season and we look forward to competing for the rest of the year . . . it's hard to not get the results we were hoping for at the beginning of the year in terms of winning but we are continuing to work towards winning and have come a long way since the beginning of the season," Romango said. 
When asked what he wished more people knew about the football team and the sport of football as a whole, Romango touched on the sacrifices made as a Division 1 student-athlete and the work ethic that goes into being successful.
"The daily grind and hard work that everyone on our team puts in all year long. I think people don't truly understand the commitment it takes to be a member of the football team while also being a student," Romango said. "I think that aspect gets overlooked and I know how hard everyone on the team works and the sacrifices they make and wish that was something more people recognized." 
STATS: (as of 10/11)
15 games played
58 tackles
44 solo tackles
1 interception
2 time member of the Patriot League Academic Honor Roll
(Visited 358 times, 1 visits today)