Athlete of the Week: Liam Pitt '22, men's swimming and diving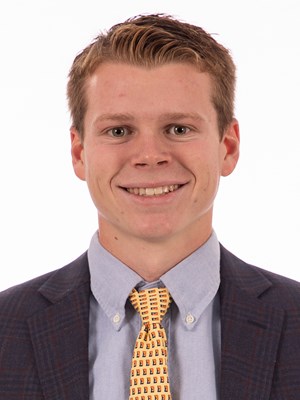 This past weekend marked the start of the competition season for the men's swimming and diving team. The Bison cruised to wins against both Holy Cross and Boston University. Sophomore Liam Pitt '22 made huge contributions to both wins with his individual and relay team successes.
Despite the long and grueling nature of swim meets, Pitt – along with the upperclassmen – aims to lead by example. Being only a sophomore, Pitt especially acts as a mentor and guide for the younger swimmers on the team. 
"I try to promote the mentality of racing as hard as possible throughout the season, so that when it is time for the Patriot League Championships our team is ready to compete and execute. I try to set an example for the younger guys, especially because we have such a large freshman class," Pitt said.
Being so early in the season, it is harder to identify issues that might present challenges. However, Pitt and the rest of the Bison have used a positive mentality to inspire confidence throughout the team.
"Boston University posed a great threat to us on Saturday. We knew that they were going to do everything they could to beat us, and our team really rose to the occasion. This meet showed how much depth we have on the team and everyone played a hand in the team winning," Pitt said. 
The sophomore derived his confidence and inspiration from former teammate Charlie McFarland. The former Bison was an exemplary leader and mentored Pitt throughout his freshman campaign. 
"Charlie McFarland was a great mentor for me last year as a freshman on the team and him being a senior captain. Charlie and I swam the same freestyle events and I was thrilled to watch him break the school record in the 50 freestyle last year," Pitt said.
"My favorite memory thus far in my career was last year at the Patriot League Championships swimming in the 400 freestyle relay alongside two senior graduates. This relay secured our 3rd place finish in the Patriot League standings," stated Pitt. 
As the season continues on for the Men's Swimming and Diving team, Pitt and the other Bison are looking forward to their upcoming meets and bigger invitationals.
"I am looking forward to the upcoming meet on Saturday against Binghamton. In addition to swimming against a non-conference team, I also look forward to watching our Alumni meet. Our training trip in December to Florida is something I am excited for this season," Pitt said.
(Visited 262 times, 1 visits today)