Athlete of the Week: Ali Russo '20, Women's Soccer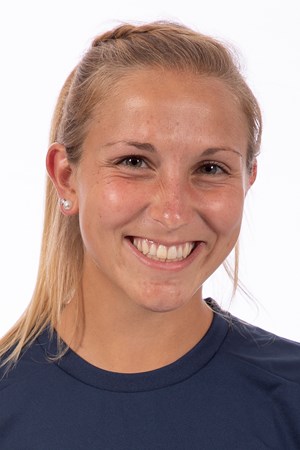 Heading into their final game of regular-season competition, the Bison women's soccer team is looking for another win to help place them in the Patriot League Tournament. While each of the 26 members of the team has put in the work on and off the field, Ali Russo '20 exemplifies what it means to go above and beyond to achieve excellence.
Russo, a two-year captain and four-year starter, has helped the team win two Patriot League Championships and is on her way to her final tournament appearance. Reflecting back on her past three years as a Division I soccer player, Russo has collected a number of memories.
"My favorite memory of my career was winning the Patriot League Tournament my sophomore year at Navy for sure," Russo said. "But also just the connections I've made with so many different people. Even though the team changes every year, the culture remains, and each year has brought new challenges, but also great memories."
As a captain, Russo has accumulated experience in this position to help promote a positive mentality that fosters a winning and supportive spirit among teammates. 
"I want every person to feel both confident and comfortable enough to give their 100 percent every play, whether in practice or in the game. Everyone makes mistakes, but it's how you respond to the mistakes that resonates the most," Russo said. "I hope that everyone feels the passion that I have for both the game and for this team enough to motivate them to give their best effort day in and day out because that ultimately will make us successful." 
Russo dedicates a major part of her inspiration for soccer to her family and friends. Russo specifically mentioned her former assistant coach, Leigh Howard, as an integral part of helping her maintain a better mindset, even in the worst of times. 
"There really are too many people to name. Leigh Howard, my assistant coach for my first two years here, was and still is today one of my biggest motivators. She understands how I feel, and she always knows what to say, whether it's motivating, supportive or the realistic push I may not want, but need and appreciate," Russo said. 
While the regular season is about to come to an end, Russo reflects on the challenges that the team has faced since August, and praises several players who have stepped up on the team and adjusted to new positions to help the team. 
"My biggest concern right now is the season ending. We have faced a lot of really unfortunate injuries this season, but we have also had some people step up in some spots they may not be comfortable," Russo said.
As the Bison take on Holy Cross on Nov. 1, Russo looks forward to pulling off a huge win that would catapult the women's soccer team into the 2019 Patriot League Tournament.
"Getting a win on Friday and making a run in the tournament as underdogs is what I'm looking forward to," Russo said.
STATS: (as of 10/31)
77 Games Played
1 goal
5 assists
2016 Third Team All-Patriot League selection
(Visited 124 times, 1 visits today)