Volleyball falls to American, rebounds with win against Loyola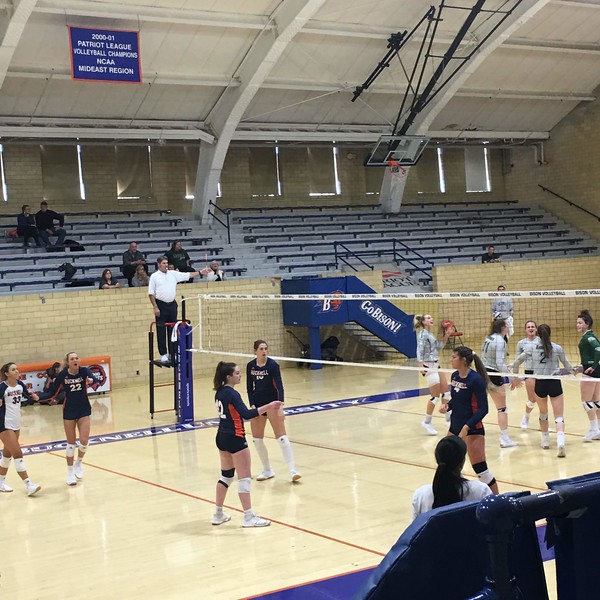 After a pair of losses to Lafayette and Lehigh last weekend, the Bison volleyball team was determined to get back on track, facing American University on Nov. 1 and Loyola on Nov. 2. Despite losing 3-0 to American, the Bison claimed their third Patriot League victory of the season after defeating Loyola 3-1. The team's record now stands at 14-10 overall and 3-9 in Patriot League play.
On Nov. 1 against American, the Bison went into the match facing a team with a 16-7 overall record and 9-1 in Patriot League play. Capturing the first set 25-11, American's early 6-0 run prompted the momentum they needed to win.
In the second set, the Bison fought back for a more even game, with a 4-1 run that included three kills by Lisa Zoch '23 to fuel the team's efforts. The Eagles ultimately captured the second set 25-21. Despite fighting for every point, the Orange and Blue proved unable to overcome American's dominance, losing the third set 25-18.
Stat leaders for the Bison included Mimi Richards '20 with seven kills and a block assist while Anna Carroll '21 and Zoch collected seven kills apiece.
In their second game of the weekend, the Bison looked to bounce back with a win against Loyola. The Orange and Blue faced a tough first set, saving a crucial set point. Led by Sophie Bullard '20 and Zoch's combined seven kills, the team won 27-25.
Despite Loyola claiming the second set 25-21, the Bison did not give up and won the third and fourth set 25-16 to earn a 3-1 victory. With a .354 hitting percentage, the Orange and Blue set a new season-high. Bullard drove the team score a career-high 23 kills and a .524 hitting percentage.
"American is a very strong program and although we battled well, we were not able to close. The team regrouped and refocused and came out strong against Loyola. We saw great leadership and great team chemistry- this is a team that overall practices very well, comes ready to work, and I see them getting better every day, I am very proud of this group," head coach Anna Allison said. "Our team has shown great resilience throughout this season.  We have a tough weekend on the road coming up, but the goal is to continue to gain strength, play AS ONE, and work hard to reap more successes."
"We had a lot of pressure on our second game of the weekend and am even after a tough loss, we were able to focus on what was in front of us. Every single person stepped up and it was a collective effort in beating Loyola. We're super excited for our upcoming games and hope to carry the momentum over," said Kelsey O'Loughlin '23.
The Bison volleyball team will be back in action when they hit the road to compete against Holy Cross on Nov. 8 and Army West Point on Nov. 9.
(Visited 31 times, 1 visits today)