Athlete of the Week: Logan Schofield '20, Men's Water Polo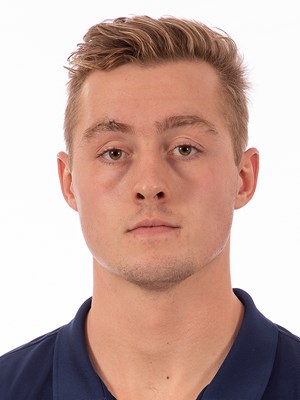 The No. 15 Bison men's water polo team defeated Johns Hopkins (15-7) and La Salle (21-3) this past weekend. The team is on a winning streak, as the Bison have improved to a record of 17-7 overall and 8-1 in the Patriot League. Logan Schofield '20 helped lift the Bison past their league opponents by scoring a total of five goals, an assist, and four steals between the two games. 
Schofield has made an impact in the water for the Bison since his freshman campaign in 2016. As a leader on the team, Schofield institutes a mentality of "competing like you will never play again."
"The mentality that I have tried to promote to everyone on the team is simple but very important in my mind. No matter what the practice is, or how you are feeling that day, you will never get that specific practice back so it's important that you give it your all each time you get in the pool," Schofield said.
Considering the lengthy duration of the men's water polo season, which starts in August and finishes at the end of November, the team is bound to face a collection of challenges. "During this season we have already had many high points, and just as many lows during our previous matches," Schofield said. "The important thing is that we take points from each of these games and improve on each and every aspect of our game so we play our best when it matters most."
Schofield has had a decorated career with the Bison. "My favorite memory so far was the conference finals game last season against George Washington. It sounds strange because we lost the game, but it was a season that everyone else had written us off as not being a contender for the title and our exceptionally small team proved everyone wrong by rising up to the challenge," Schofield said.
The gifted center is modest when complimented and indicates head coach John McBride as his main influence in the realm of water polo. "Coach McBride has pushed me past what I thought were my limits every day at practice and has helped me at every step of my water polo journey. He has opened so many doors for me while I've been at school and is also the only coach that looked at me out of high school which makes him the only reason I was able to play college water polo," Schofield said.
While water polo is not as common in some parts of the continental United States, Schofield explained that what most people fail to realize is "how physical and taxing the sport actually is. Many people who have never seen water polo write it off as something it's not and never give the sport a chance when in reality it is extremely fast paced and quite multifaceted."
"I'm very excited that the conference championship is right around the corner and I'm looking forward to seeing how all the work our team has put in over the year so far comes together when it matters most. Of course we can't look past our final regular season conference matchups of the season but it is an exciting thought nonetheless," Schofield said.
Career Stats:
94 games played (62 starts)
129 goals
11 assists
140 points
264 ejections drawn
First Team All-MAWPC and All-MAWPC Tournament Team in 2018
(Visited 162 times, 1 visits today)