The night before finals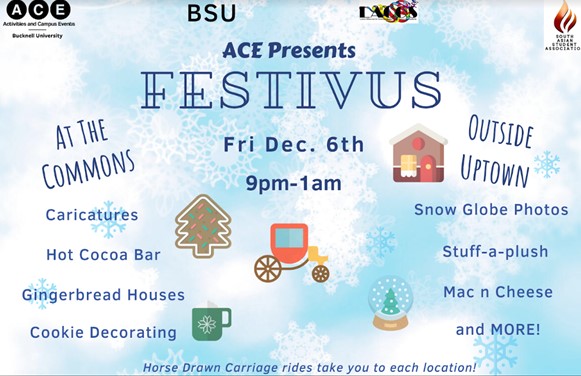 As the semester comes to an end and finals approaches, it is extremely important for students to discover ways to break up studying and relieve stress. A myriad of University activities and events are offered for students and faculty to utilize during this busy and stressful time.
Here are a few ways to de-stress from finals:
Festivus: Dec. 6, 9 p.m. – 1 a.m. at the Commons and Uptown 
To kick off the holiday season, Activities & Campus Events (ACE) will be hosting Festivus, an annual University event full of fun activities, free food, and more. Come to the Commons on Dec. 6 from 9 p.m. – 1 a.m. to make gingerbread houses, decorate cookies, paint ornaments and indulge in a gourmet hot chocolate bar. At Uptown, participate in a giant snow globe photo-op, stuff-a-plush and get henna tattoos. Students can even relax by taking a horse carriage ride between the Commons and Uptown!
Faculty/Staff Meditation 
Faculty can join the University's students in the act of refocusing and getting in the holiday spirit through a meditation session at Rooke Chapel. This relaxing activity will be hosted in 113 Rooke Chapel Meditation Chapel on Dec. 11 from 4:45 p.m. – 5:45 p.m. and Dec. 13 from 12 p.m. – 1 p.m.
The University's Gamelan Ensemble
Sit back, relax and listen to a free performance of the University's unique gamelan ensemble, an orchestra made up of a set of instruments from Java and Bali, Indonesia. This event will take place on Dec. 8 from 2:30 p.m. – 4 p.m. in the Weis Center for Performing Arts. At the event, the ensemble will feature a variety of traditional instruments, including metallophones, pitched gongs, gong chimes, bamboo flutes and drums. The ensemble members will play a range of styles and repertoires, including pieces for Balinese angklung, Balinese gender wayang, Javanese soran-style pieces, adapted works and new pieces for gamelan. The University's Gamelan Ensemble will be a free, public concert — the perfect way for University students and faculty to de-stress.
Therapy Dogs
Students don't have to stray far from the library to take a study break; they can pet therapy dogs and talk to their owners in the lobby of the Bertrand Library. Sponsored by the University's Counseling and Student Development Center, the therapy dog program aims specifically to reduce student stress. The dogs from the Susquehanna Trail Dog Training Club (STDTC) will be returning to campus on Dec. 9 from 6 p.m. – 8 p.m.
University student Claire Burton '22 believes in the benefits of the therapy dog visits, especially during finals season. "Whenever the therapy dogs are in the library lobby, I immediately become happier," Burton said. "I am reminded of home, which makes me feel more relaxed and helps to take my mind off of work for the time being."
Holiday Mug Making in Maker's Space, Dec 9 at 7:30 p.m. – 9:30 p.m.
Students have the opportunity to relax through designing custom mugs while listening to holiday music and enjoying free hot chocolate from 7th Street Café. In addition to being able to create holiday mugs, participants will receive a free ticket to the performance of "A Celtic Family Christmas Performance" on Dec. 10 in the Weis Center for the Performing Arts.
Jane Meng '22, who works as a maker assistant in the 7th Street Studio and MakerSpace, loves the calming effect that creative work brings. "The number of crafts and projects that you're able to do in the MakerSpace really brings out the experimental and creative side of you," Meng said. "After learning how to properly use all the machines in the space, I feel like I'm able to make so many things from scratch. Knowing that there is so much for me to create in the space gives me the opportunity to de-stress in various ways."
Fast Food Frenzy 
Lastly, students who are looking for free food to fuel their studying can stop by the Bertrand Library lobby! A Bucknell Student Government (BSG) event, the Fast food frenzy will begin on Dec. 11 at 10:30 a.m. and runs through Dec. 13. Each day will feature food items from various restaurants, and thus will offer students a break to regain their energy.
"It's important to have food readily available for the students that are in the thick of studying for finals and for the university to try and eliminate food insecurity for the students that are running low on dining dollars towards the end of the semester," Caroline Tattersfield '22, the BSG president for the Class of 2022, said. "Instead of walking across campus for food students can just walk to the front of the library and get it for free."
In the midst of this stressful season, students have plentiful opportunities to relax and de-stress thanks to these activities, organizations and clubs.
(Visited 151 times, 1 visits today)