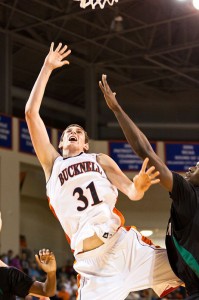 By Greg Stevenson
Senior Writer

To his opponents, both non-conference and in the Patriot League, he is a dominant man who won just about every award the conference had to offer in 2011. To the rest of the country, he is a YouTube sensation with a flair for the dramatic. To those closer to home, including the Sojka Psychos and all the fans who pack Sojka Pavilion for every men's basketball home game, he is "Moose."
But, to those who know him best, like senior point guard and floor general Darryl Shazier '11 and the rest of his teammates, Mike Muscala '13 is a great player both on and off the court. After arguably one of the most impressive individual seasons in program history, it's hard for anyone around the country to make a case otherwise.
Story continues below advertisement
Coming to the team last year from Saint Paul, Minn., Muscala, just a sophomore, started right away in his first season in a Bison uniform, struggling at times and not always playing up to his fullest potential. His rookie year ended with a loss to Holy Cross in the Patriot League Tournament, a game in which he scored just nine points. For Muscala, those shortcomings were just more fuel to get better in the off season.
"Every player has weaknesses, but I try to improve my game and get better every day," Muscala said. "I think my best attribute is my work ethic. I may not always score a ton of points, but I've gotten better at contributing to the team and being a presence on the court whenever I'm out there. I'm a very competitive person and hate losing, even in practice. I try to use that and turn it into motivation to get better."
Before the season started, there were a lot of questions surrounding his role on the team. But it didn't take long for those who followed the Orange and Blue to notice a difference in Muscala's game. Inside the paint, Muscala had become a dominating force. In 2009-2010, bigger and stronger defenders would outwork him for points and rebounds, but this season, Muscala began to win those battles and assert himself down low. In the Bison's 15 contests before the start of 2011, Muscala had five 20-point performances and another double-digit rebounding game.
One night a few days after New Year's in Richmond, Va., the 2011 season would change for Muscala and the Bison. In the Bison's final road game before the start of their conference schedule, the Richmond Spiders had pinned them to the brink with two seconds left and trailing by one after a costly Orange and Blue turnover in the final moments of the game. With a chance to ice the game, the Spiders inexplicably missed two free throws, opening the door for a miracle.
With the trust of his team and the coaching staff behind him, the Bison drew up one last play to go to Muscala. Executing the sequence perfectly, Muscala caught a full-court pass and buried a fadeaway jumper to beat Richmond by one.
"Hitting that shot was a surreal experience," Muscala said. "We battled hard the whole game and the circumstances towards the end of it that even made it possible were crazy. Joe [Willman '13] had a great pass to me that shouldn't be forgotten. Since that was our last non-conference game before we headed into league play, it definitely gave us a huge boost moving forward."
In that moment, Muscala had taken his game and the rest of his team to the next level.
With the video of the Richmond shot plastered all over YouTube, Muscala had become famous beyond the inner circles of the Bison basketball community, and his performance failed to disappoint. In his second game after the shot, Muscala scored a career-high 33 points to go along with 10 rebounds in a blowout of second-place American.
Muscala's encore performance to the Richmond shot came in the following game when, on national television, he drained another buzzer beater, this time against rival Holy Cross, which was enough to get him on ESPN later that night.
"It was really cool for us to see that SportsCenter put it on its highlights," Muscala said. "But what was great about our team is that it didn't make us complacent. We kept working hard in practice and guys really stepped up in some crucial games."
With Muscala playing at his peak and the team continuing to work hard, the Bison tore through its Patriot League schedule, losing just once in 14 tries against conference foes. He scored in double digits in all but two games. In just a few weeks, he had become the most dominant player in the Patriot League.
His impressive play and continual focus on improving was not lost on his teammates or coaches.
"Mike puts his teammates over himself, which is very important in gaining the trust of your leader," Shazier said. "He makes the people around him better because of his lead by example mentality. When Mike is going hard at whatever it is the team is doing, it forces everyone else to match his energy and work ethic."
It wasn't just his own team that had taken notice. Over the course of the season, Muscala not only garnered the respect of opposing players and coaches, his play also earned him the Patriot League Player of the Year award and First Team All-Patriot League honors to cap off an impressive 2010-2011 campaign.
"Winning Player of the Year was definitely a big honor that was a goal of mine heading into the season," Muscala said. "However, it's really reflective of the team and all the hard work we put in every day."
Together, Muscala and the rest of the men's basketball team showed off their hard work with three consecutive victories in the Patriot League Tournament, none of them easy, to claim a spot in the NCAA Tournament. In the semifinal contest against Lehigh, Muscala saved his team's season with two free throws and a key defensive stop in the final seconds to preserve the victory. Against Lafayette in the title game, Muscala led all scorers with 18 points, helping bring the title home to Lewisburg. With his performance in the three tournament games, Muscala took home another piece of hardware—Patriot League Tournament Most Outstanding Player.
"Winning that game against Lafayette, on ESPN2, in front of a crowded Sojka, nothing can beat that," Muscala said. "It was the most memorable moment of my life and something I will certainly always cherish."
The season had been an unforgettable one for Muscala, and the win against Lafayette gave him one more opportunity to lead the Bison—this time to the NCAA Tournament versus the Connecticut Huskies. Even though the Orange and Blue struggled against the eventual-champion Huskies, the experience of the Big Dance was a memorable one.
"Playing in the NCAA Tournament has always been a dream of mine, and it was awesome," Muscala said.
The experience, though, is not what will linger for Muscala. Like any true champion, what he will never forget is the stinging defeat that ended his season.
"The loss gave me a lot more motivation to continue improving my game in the off season and get us back there next year," he said.
It should come as no surprise to Bison fans that Muscala is never satisfied, even when leading his team to the NCAA Tournament. He's the player who never quits, the player whose energy is unmatched, the player who keeps working hard.
That's the motivation that took him to new heights in 2011. And, surely, that will be the same drive that will bring out a whole new Muscala come 2012.
(Visited 78 times, 1 visits today)