Female Athlete of the Year: Lauren Lucido '11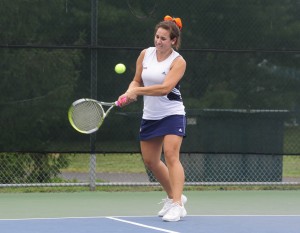 By Lindsay Regruto
Staff Writer

Leaving the pool in favor of the court, The Bucknellian's Female Athlete of the Year, women's tennis co-captain Lauren Lucido '11 played in her first competitive tennis tournament at 10 years old. Lucido's decision to play on land rather than in water paid off: she leaves the University with more wins than any female Bison tennis player before her.
When Lucido first stepped on the court for the Orange and Blue, it was the power behind her hits and her strong background as a USTA junior player that made the biggest initial impact on the team. Starting off strong, Lucido was also a Second Team All-Patriot League selection her first and second years. After going a perfect 11-0 her sophomore year, Lucido was selected as the Patriot League Player of the Month for September 2008.
Lucido's dedication to the game and her team stems from a true love of the sport and the feeling of just being on the court.
"When I'm on the tennis court, it's as if nothing else matters. For that bit of time, it's just me and the ball," Lucido said. "It's therapeutic and a rush all at the same time."
During her junior campaign, Lucido was named First Team All-Patriot League, finishing second on the team in overall wins in singles and leading the team in doubles victories. She ended her junior season with 14 straight singles wins for the sixth-longest single-season winning streak in program history.
"It's very exciting and well-deserved that Lauren has been chosen for Athlete of the Year. After being her teammate for the past four years, it has been great to see her top the charts before completing our senior season," teammate Dara Dwojewski '11 said. "Her immense success as an athlete at Bucknell is certainly something to be proud of."
Over Lucido's four years, Head Coach Rebecca Helt said Lucido is one of her "most coachable players" and has watched Lucido not only improve but also demonstrate the drive and determination to develop into a totally new player. Her athletic ability has allowed her to internalize feedback over the years and pick up new skills quickly.
"She would be happy about a win, but never satisfied with her performance. She wanted to become a better player every single day," Helt said. "She not only learned new skills, but as a junior and senior, Lauren took all her skills and became a brilliant competitor."
Lucido's competitive nature has driven her to win other awards and recognition along the way. After breaking the tennis all-time record for total wins this year, Lucido was granted her second Bison Athlete of the Week award. In March of this year, Lucido was named Patriot League Women's Tennis Player of the Month for the fourth time in her career.
Her ability to self-motivate has proven invaluable throughout her career.
"You're on the court by yourself, so if there's anyone who's going to motivate you and get you through the match, it's you," Lucido said. "I hate to lose, so when I'm out there on the tennis court, I'm going to try to do whatever it takes to win that match."
Lucido has worked hard to earn the title of all-time leader in singles and doubles victories with 83 wins at doubles and 87 singles victories. She will finish her career as the winningest player in program history with 170 all time victories.
"One of my biggest goals for all players who come through my program is to help them learn to play 'fearless' tennis," Helt said. "Over the years, Lauren became one of the most fearless competitors I've ever coached.  It was an amazing experience to watch Lauren mature into an all-court, solid player who never held back."
Her accomplishments are a testament to her great talent on the court, but her commitment to her teammates is a testament to the type of player Lucido has become.
"The girls on my team aren't just my teammates, they're my friends. It's not just you out there on the court. You have your teammates, and I think that's a huge part of what made the whole college tennis experience so awesome for me," Lucido said.
Her drive on the court has only been matched by her desire to push her teammates to be the best they can.
"Lauren has been an amazing co-captain, teammate and friend the past four years," teammate Lauren Rottkamp '11 said. "On the court, Lauren has always had great focus. Off the court, Lauren exudes a fun and energetic energy for the team and brings it to everything she does. Lauren is truly a wonderful teammate and friend."
(Visited 306 times, 1 visits today)