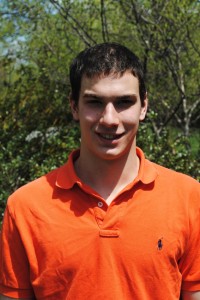 By Chris McCree
Writer

Just one year into his collegiate career, Mike Nicholson '14 has already achieved more for the Bison swim program than few individuals, let alone a first-year, can ever hope to.
"Mike had a tremendous impact on the team this year right from the start," Head Coach Dan Schinnerer said. "He was a great meet performer throughout the season, but also showed the ability to raise his level in the big meets."
Story continues below advertisement
This season, Nicholson amassed 24 first-place finishes and, with his consistently stellar performance, distinguished himself as a top-tier competitor among his teammates and the rest of the league.
"He scored the most points for us over the course of the season and also scored the most points for us at Patriot League Championships. It's not common that you see a freshman join the team and right away have a huge impact like that," team captain Mike Volpe '11 said.
Most notably, Nicholson always seemed to perform best when the stakes were the highest. Starting with the first meet of the season against UMBC, Nicholson gave his teammates a glimpse of what was to come during the season. In the meet, he followed a second-place finish in the 100 IM with two first place finishes in the 200 IM and 400 IM.
"In that meet, we saw for the first time what he was capable of. He won his events and set the bar for everyone else on the team," Volpe said.
Later, in arguably the most important meet of the regular season against Patriot League rival Army, Nicholson carried the team with first-place finishes in all three of his events. Then, at the Patriot League Championships, he claimed a third-place finish in the 200 IM and later went on to take the title in the 400 IM by breaking his career-best time by an unprecedented 7.17 seconds. Despite the impressive performances put forth by Nicholson, the Bison were not able to defeat the Black Knights during their two attempts this year. However, Nicholson has turned his full attention to making sure it doesn't happen again next season.
"My goal for next year is to beat Army," he said. "Any individual goal I have is trumped by my desire to beat them. They disrespected us twice this year in our home pool, and I know for a fact we are going to bite back. Every guy on our team cannot wait for our date with them at West Point next year. It was our motivation this spring, and will be our motivation all fall as well."
Ultimately, it was through this competitive attitude that Nicholson had his greatest impact.
"As an athlete and a person, Mike is pretty 'low-key.' You wouldn't guess him to be a tenacious competitor. That being said, he really raised the team's intensity this year," Schinnerer said.
His ability to bring the same intensity to practice that he does to meets is uncanny for such a young athlete, and his teammates undoubtedly noticed.
"Mike is one of the hardest working kids I've seen in our pool," Volpe said. "His attitude during practice is that nothing can stop him. He does the most difficult sets and does them to the best of his ability every time he swims."
Certainly, all his hard work has paid off. As a first-year, Nicholson already holds two school records in the 200 and 400 IM, and will be the reigning 400 IM Patriot League champion going into next season.
"He definitely had an outstanding first year, but we believe he is capable of even more in the years to come," Schinnerer said.
Although he is proud of his accomplishments this season, Nicholson has set even loftier goals for the upcoming years.
"For the rest of my career here, my ultimate goal is to make the NCAA championship," he said. "I was able to make some progress this year by making a 'B' cut for the meet in my 400 IM, but I have to drop some serious time in order to be invited to the meet."
(Visited 67 times, 1 visits today)