A walk on the grass: Miller and Krohn navigate the less traveled path
When you're about to disrupt expectations, there's a distinct accompanying feeling.
It dwells in your stomach, pulses your heart and claws at your throat, holding your voice captive. Regardless of how confident you are in your decision, your hands tremble as though even your body is doubtful of the soundness of your mind. 
For Caleb Krohn '20, there had once been a neat plan tied in a bow. Krohn had been recruited to the University's basketball team as a point guard. He had had every intention of playing for the reigning conference champions.  
Now, a month into his freshman year, Krohn sat rooted to a bench between Smith and Vedder Halls. It was September 19th.  
He picked up the phone. 
"Dad, I quit the team," he said. Before the conversation had even begun, Krohn had silenced the other end of the line. 
After a pause that seemed to stretch for years, a voice stirred through the receiver.  
"I support this," his father said. Krohn audibly sighed and his lungs flooded with air once again. He had been holding his breath. "But you're going to have to find something else. You're going to have all this free time. I don't want you wasting all that time lying around and drinking."
In this moment Krohn realized he didn't have a plan B. This didn't stop him from speaking. "I like music," he said.
Silence consumed the phone once more, so he continued.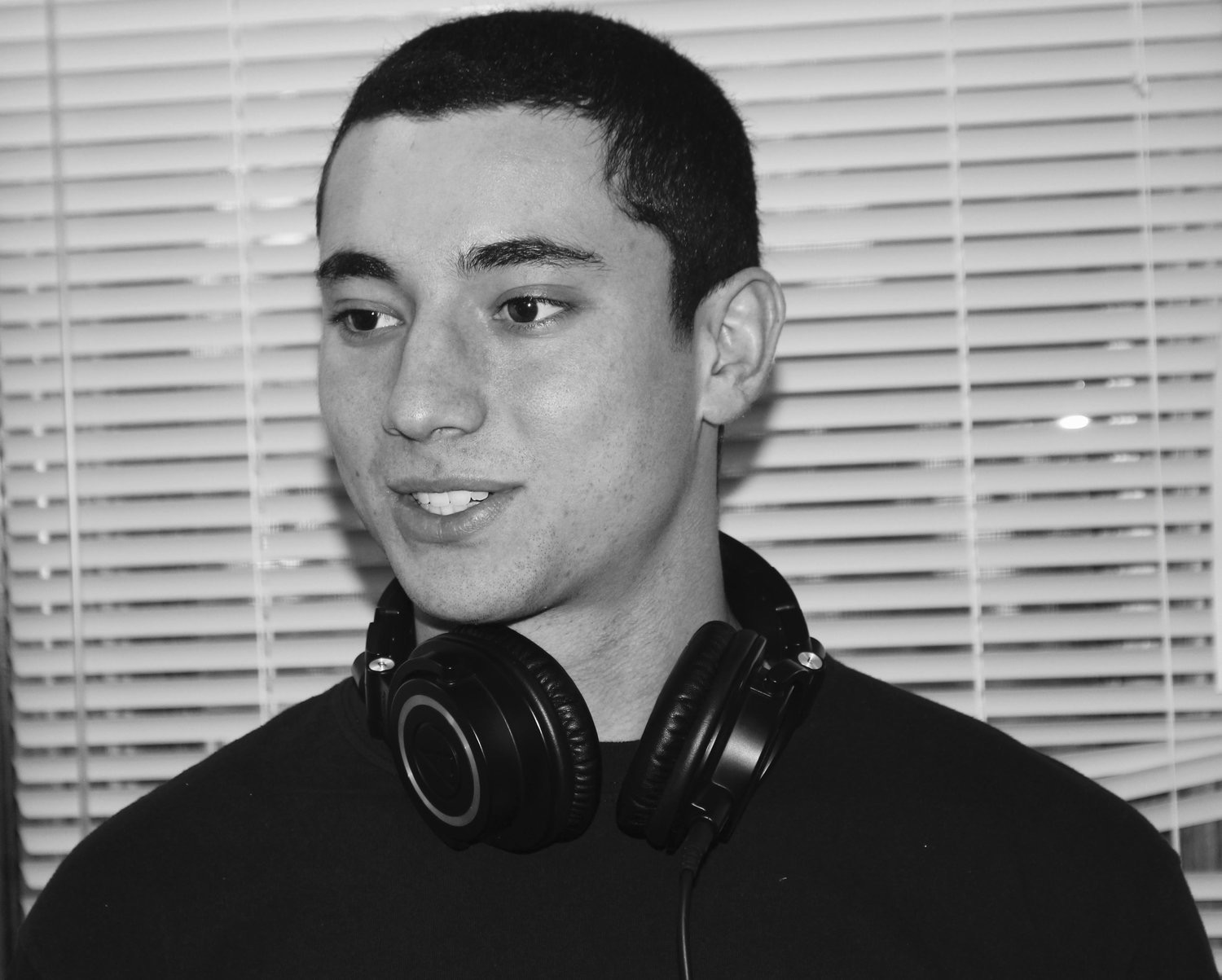 "I always listen to music when I work out. I always listen to music when I'm playing basketball. I listen to music on my way to class. I listen to music when I'm just chilling in my room. I really know a lot about music. I like music a lot," Krohn said. He was ranting, leaving no time to realize his words had raced past any carefully designed thought. 
"O.K." and the line fell flat. 
A few hours later a text broke the smooth surface of his phone: "Hey. Your dad tells me that you're interested in music. I sorta know a guy at Columbia Records. Let me put you in touch."
___
Swallowed in thought and weighted with nostalgia, Holden Miller '20 sank deeper into the depths of his bed. 
It was winter break of his junior year of college. Maybe it was the warmth of the holiday season or the approaching new year, but either way Holden was thrown down a rabbit hole of reminiscence. 
In the background of his reflections, his mind danced and toyed with the rhythm of his memories.   
Flashbacks. Fun facts. Time Lapse. He typed into the notes app before giving way to sleep and allowing his recollections to fall back into the neat file cabinets of his mind. 
The next morning as Miller woke those three phrases were still sleeping in his notes, gestating. Something about the sun dripping through his shades and the morning's enchantment eased him into a spell. 
Opening the notes app once more, he looked at the words with the spirit of a new day. 
He started with the chorus. 'Cause when you're not here you are stuck in my head.'
Bed. Dead. Red. Thread. Tread. Read. He sifted through a matrix of rhymes.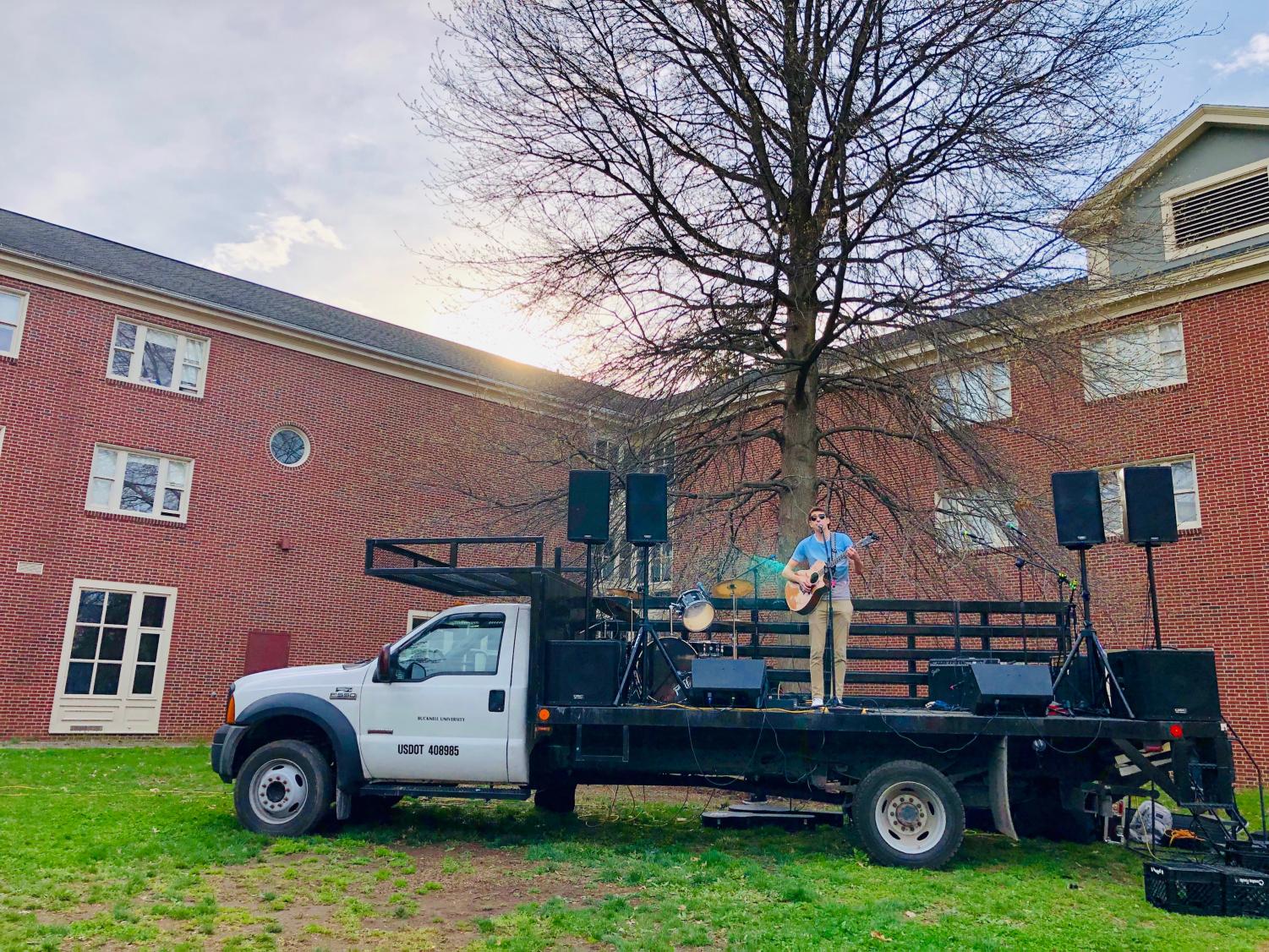 'Like flashbacks and fun facts…' he typed. Fun facts. Then it dawned on him. His inspiration was manifested in a glass container branded with a raised "S" and wrapped in a sleeve of gold. Each brewed beverage promising a fun fact under the seal of its cap. 
'… on bottle caps read.'
He grabbed for his laptop, welcoming the glow of the screen that pierced through the morning haze. Opening his browser he pounded at the keys- www.snapple.com.  
Miller's eyes danced over the site's menu. He clicked on "real facts" and searched head in the iced tea company's database of factoids. 
Snapple fact #98: when the moon is directly overhead, you weigh slightly less. 
And so he typed once more. His typing produced a cadence that would soon be replaced by the acoustics of a guitar.  
'You weigh slightly less when the moon's overhead. 
But that doesn't surprise me like you do.
No that doesn't excite me like you do.'
___
It was October of their junior year when Miller and Krohn had opened the scarlet red door that guarded their fraternity house. With a weighted creak and slam, the fiery red door set free their punctuated voices that spilled out onto Fraternity Road and embraced the crisp autumn air.
Fueled by beer and a shared passion, the two spoke of music that Saturday afternoon as they walked through the University's campus, their dialogue eclipsing the rest of the world. 
The fervor of their conversation blinded them from the quilt of orange, red and yellow hues of the treetops that lined the quadrangle, the weary students that fought the slope of South 7th Street and even the cacophony of rock, rap and shouts that grew in amplitude as they had neared St. Catherine Street. 
A few days prior, Miller had sent Krohn a recording of his song "13th Floor" after seeing him in the library and learning of Krohn's interest in music. Krohn had been impressed. 
As acquaintances freshman year, their interactions were limited to games of intramural basketball and a Spanish class with a shared friend. Come sophomore year, however, the two found themselves donning the same fraternity letters, and by junior year they lived two doors down from one another. 
It was only a matter of time before Krohn's interest in the music business and the acoustics of Miller's guitar would collide.  
A discolored mustard yellow house safeguarded by a white picket fence marked the end of their conversation. Their conversation would soon dissolve among Bruce Springsteen's "Rosalita" and Tom Petty's "American Girl" as it became lost among college students nourished with cheap beer. 
Aware of this, Miller stopped. "Would you consider taking me on and being my manager?"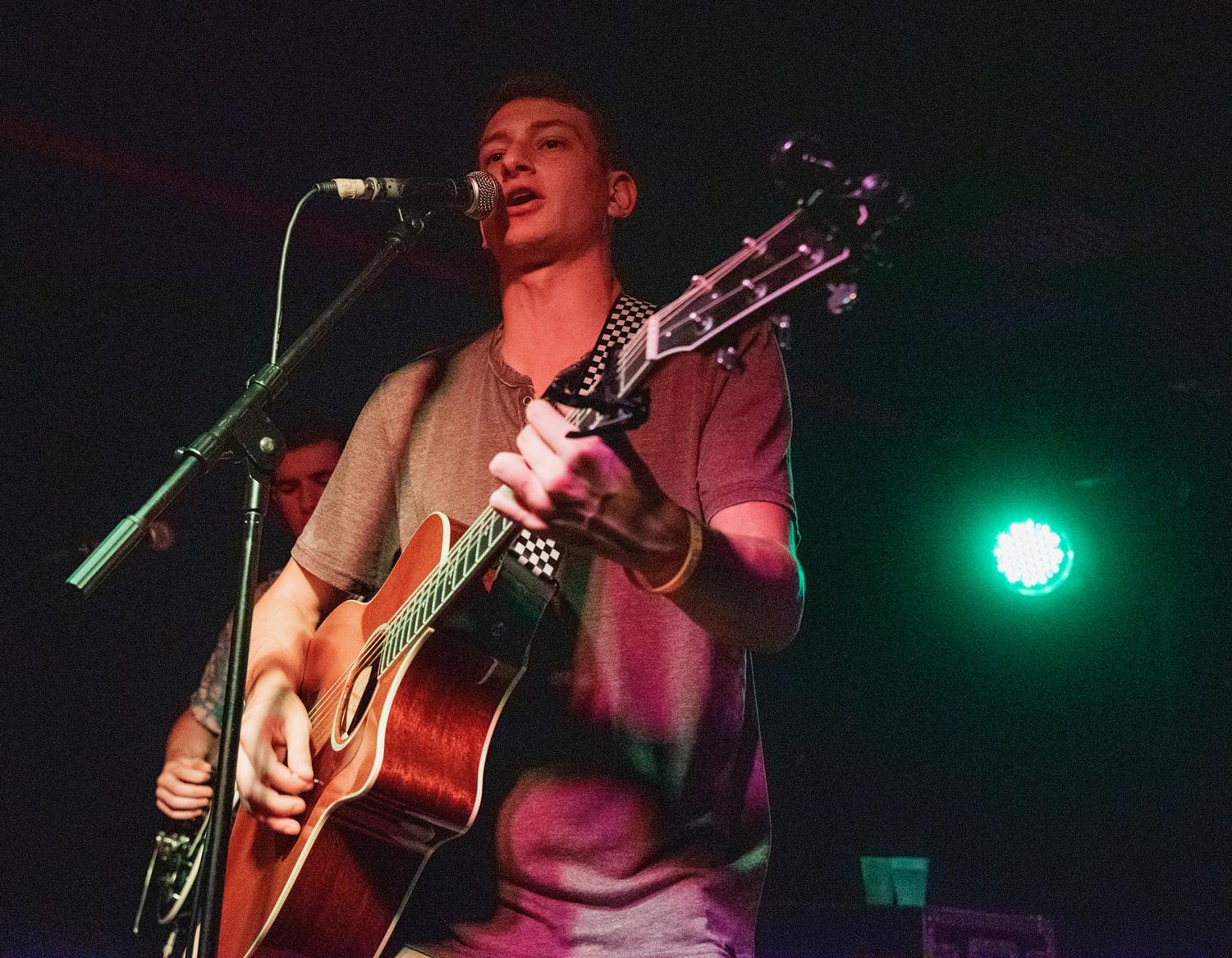 Over a year later, the music of Miller has filled an array of venues from the University's annual Fall Fest and 7th Street Cafe to New York City's Mercury Lounge, The Delancey and Rockwood Music Hall, made possible only with the aid of manager Caleb Krohn. 
Studying Spanish and digital media and communications at the University, Krohn serves as Miller's label and works diligently to market, book and promote the budding singer/songwriter as well as connect him with music executives. 
"I think Caleb does a good job keeping him motivated, on track, and having someone there to bump ideas off of," Will Greenberg '20, a senior economics major, remarked of the duo. "Even yesterday we were literally in the house eating dinner and Caleb started saying, 'Holden, you can make your songs but using rap lyrics, rap choruses, rap verses, in the way you play.' And Holden's like, 'Dude, I always think of that!' and they started going off on it for awhile." 
Miller has released two songs in under a year's time: "Pennsylvania" and "Flashbacks and Fun Facts." Together, the songs have grossed over 200,000 streams and Miller has appeared on Discover Weekly, a playlist of songs generated by Spotify's algorithm that recommends new music to listeners. Presently, the managing for sustainability and music double major has nearly 15,000 monthly listeners on Spotify. 
Miller's involvement on campus in combination with his academic pursuits and maintaining a balanced social life leaves little time to practice, refine, and record the songs he composes.    
"I feel like I did the work. The work is writing the songs and being proud of them and feeling like they can be released. So that's what's frustrating is that they're just sitting there as notes in my phone and not something that can be shared with people," Miller said. 
As he says this, he pulls out his phone. His fingers quickly dance along the glass screen and summon the notes app. Various lines of lyrics and scattered rhymes flood the screen.  
___
"I've never said this to him but I felt a frickin' huge amount of pressure to make sure that first song did well," Krohn said. "Nobody is releasing an acoustic guitar, five-minute song on Spotify about the breakup they just had with their girlfriend. Like holy shit… when you think about it, those things are ridiculous. Nobody else is gonna do that. So I wanted to make sure that it was successful and not something that was poked fun at. That it was taken seriously. That Holden was taken seriously." 
With only 34 declared music majors, artists like Miller stand in stark contrast to the greater proportion of the University's roughly 3,600 undergraduates. 
"This school is not great for developing musical talent. Sometimes people go to the events, but there isn't a huge culture around it yet," Greenberg said. 
Moreover, the vulnerability that accompanies songwriting for burgeoning songwriters compounds the difficulties faced in navigating a space like the University's campus. 
"My brother went to Geneseo U in upstate New York, and I think if I was there this would be such a normal thing," Miller said. "Because Bucknell is very 'accounting, finance, fraternity', it was definitely super uncomfortable for me to release 'Pennsylvania,' which is a really vulnerable song and also be a cool kid that's accepted by all the people here." 
With a quick Google search on Geneseo University, even the most inept sleuth can be easily directed to the university's homepage, which proudly showcases a cycling banner that advertises the performance program's upcoming events. 
The University's homepage boasts a drone video that captures the beautiful hues of the campus. The Sigfried Weis Music building is tucked off to the side of the shot. 
Having five semesters under his belt and finally feeling as though he had established himself at the University, Miller braved releasing his first song, "Pennsylvania," on December 12th, 2018. 
In the first 24 hours the song had 1,000 streams. 
Krohn's unwavering campaigning as both a friend and manager has escalated Miller to new heights and the duo's diligence has paid off.  
As of Dec. 2, "Pennsylvania" has 144,770 streams and "Flashbacks &  Fun Facts" has 100,195 streams on Spotify alone. 
In other words, on just one music platform, Miller's music has reached the ears of hundreds of thousands.
"I think the thing that helped me was having Caleb. Having this guy who people have respect for, I think in a general sense and especially in our fraternity he's a well-respected person, to back me up every time I release something… has actually been a super helpful thing," Miller said.  
___
There's a sense of irony in music. 
The lyrics of a song function as a stage for our most intimate feelings of sorrow, longing, joy, anger, frustration and fear to intersect- details of our lives that we mostly work to keep buried in the creases of our limbic system. 
Yet, in most cases, these intimate verses are crafted with the contradictory aspirations of circulating the world and landing as earworms that play in your mind on repeat. 
For the majority, the chorus of a song is written with an accompanying vision of crowd chants colliding with Madison Square Garden's sound system. 
"It is weird to get up on stage and sing about heartbreak. It doesn't even have to be that, but I would only tell my closest friends these feelings, and now I'm telling strangers at a show," Miller said. "You'd be surprised. Things that you think are a unique experience to yourself are shared by so many people, and I think that's why music is so awesome."
As a songwriter, Miller is marked by risk. A unique sense of vulnerability accompanies a Soundcloud or Spotify profile, but this hasn't stopped Miller from performing. This past summer, Miller took to a larger stage, performing at The Delancey, The Mercury Lounge, and Rockwood Music Hall in New York City and will be returning to the Mercury Lounge on Dec. 22. 
"A lot of the things you think aren't relatable are relatable. You have to accept that they're shared experiences and that people connect with it," Miller said. 
___
A unique brew of endorphins, adrenaline and two whiskey gingers is the antidote for settling Miller's pre-show nervousness. As he performs, he looks over the head of the last person in the audience and allows his mind to go free, or blank rather.
"It's crazy how little I remember," he laughs.
The first song runs into the second and then bleeds into the third. Three songs in and Miller feels as though he's been teleported back to his room, just sitting on his bed playing guitar. 
When the lights turn on at the end and the audience's applause takes over from the singer, he's teleported back to the stage,  catapulted into the present, and bathed in a spotlight once again. The faces of Krohn, his friends, his family and strangers now fill the space that moments before seemed like his bedroom. 
The first and the last song of the set stand as bookends that mark the night's feat. The ten songs in between blend into a cryptic fog. 
"I do think that the kind of music that Holden makes and just who he is and how he performs really lends itself to live performances, and I think that's what people enjoy the most," Krohn said. 
Sophie Doukas '20, a markets, innovation, and design major, reflected on Miller's show at The Mercury Lounge this past summer. "It's nice to see how his voice, his music skills, and the way he tells his story through his music has developed over time. It's crazy I had seen him when he used to do covers of songs and now he's performing his own songs and people in the audience know the words to his original songs," Doukas said.
As Miller's freshman year hallmate, Doukas has watched as Miller's singing career has evolved from the concrete walls of his dorm, to 7th Street Cafe, and now three years later, to the Big Apple. 
"It was the first time I had seen him being on stage, lights all on him. He was truly a performer, background music and all. But it was still just him playing his guitar and singing like it's always been," Doukas said. "You can just tell how much he loves doing it."
Miller plans on continuing to pursue his passion, penetrating the music industry as a singer/songwriter, after graduation. 
"There's no reason not to give it a shot now," Miller said on pursuing singing full-time. "In an ideal world I'd write songs or write songs for other people, but I also have my own career as a singer."
While Miller's decision to pursue singing takes a step off of the University's straight and narrow career path, it comes as no surprise to his friends. "We all knew he was never going to have a regular job. He hates sitting behind a desk- that's just how he is," Michael Murphy '20 said.
___
As his manager, Krohn has high aspirations for Miller. 
"He's been able to grow a dedicated fan base from Bucknell. There's a lot of them and there's 50-60 people that came to more than one show and followed him," Krohn said. "But for what I'm trying to do, yeah it's sick that 60 people love Holden, but I'd love it if 60,000 people loved Holden." 
Miller is only the first of many artists whose careers Krohn hopes to foster. Seeking a job in the artists and repertoire division within a record label, an area that aims to find new artists and scout talent, Krohn is working diligently to make a name for himself in the industry. 
"Caleb will be the most successful kid out of all of us- hands down. I've never seen someone work so hard and do something they're so passionate about," Murphy said. "The sky's the absolute limit for him. No doubt in my mind." 
"He was doing it way before I was," Miller said. 
Greenberg said, "I've always been impressed that Caleb has a lot to back up what he's doing. Like tangible things that are very impressive. But he doesn't really put it out there that much." 
Holding internships at Republic Records, Cinematic Music Group and Columbia Records as well as founding Bison Records, the University's music management and production company, Krohn has kept his word.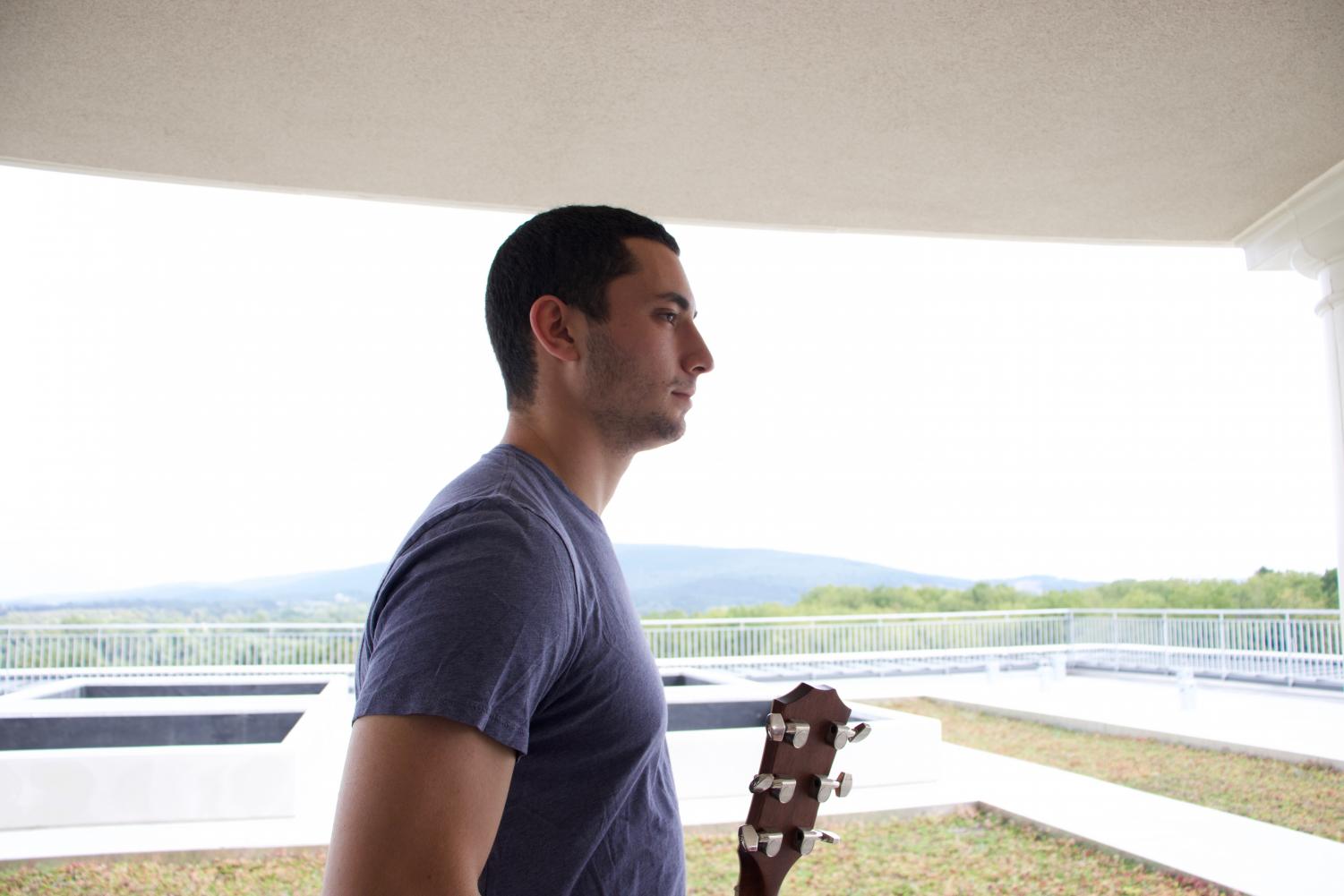 "He's going to get a job at the best record label there is, and he really works it and is very diligent about following the music industry, listening to different songs and music videos," Greenberg said. "When we're all talking about jobs and internships, he's just like 'whatever.' He doesn't feel the need to justify and always does his own thing, and I've always thought that was so cool." 
___
It's October, nearing the point in the year where you walk out the door in the morning buried in the knit of a sweater and return by 4 P.M. uncomfortably warm. 
The three of us sit at a dilapidated picnic table that flaunts splinters of daggered wood threatening any exposed skin. The lopsided table pairs nicely with the dirty hue of the light blue house that we're sitting in the backyard of. 
Allowing the sun to cook our skin, we talk, a bee dancing between the three of us. Its hum taunts our conversation. 
When talking about music and budding artists, Krohn's words are fueled with a distinct passion. The pace of his speech picks up as he navigates through his Spotify, illustrating the mechanics of the platform.    
"She's unbelievable. You're going to hear about her soon," Krohn said, referencing an artist as he scrolls through the app. His phone teems with the songs of artists yet to be discovered. 
Krohn's excitement is matched by Miller's when he begins to speak of music and his older brother. 
"He's been a big motivator, and I don't think he'll ever understand that. He started writing songs before I started writing songs, and I've always wanted to do what he was doing," Miller said. Every time he recounts his performances he smiles. When he references the songs that sleep in his notes, his eyes crinkle, and the corners of his mouth pull even further upwards, drawing his smile wider. 
The bee that was circling at the start of the conversation is drowned out by the two student's passion. 
I, too, am energized by their passion. So I ask another question. 
"What is it like to do what you're doing in a space that doesn't typically allow for it?"
On the surface level, my question is vague and quite frankly poorly phrased. Yet judging by their faces they know exactly what I am referencing. The University's campus can be muffled by the voices of finance, economics, and accounting majors that tread tightly along the path leading to the Center for Career Advancement, perhaps leaving little room for the 'Holdens' and 'Calebs' who choose to walk on the grass. 
Without hesitation, Krohn responded,"People don't get it- that's for sure. There's a lot of people that just don't get it. I don't blame them. I'm not gonna do wealth management. I don't get it. But like people just don't get it. It's crazy. It's like it's so foreign to them."
He looks to Miller as he says this and laughs, as if my question has cued an inside joke between them. This isn't the first time they've had this conversation. 
"There's so many people here who are like, 'I need to get the highest paying job, doesn't matter how much I work,' and that's never been who I am regardless if I was going in the music direction or not," Miller added.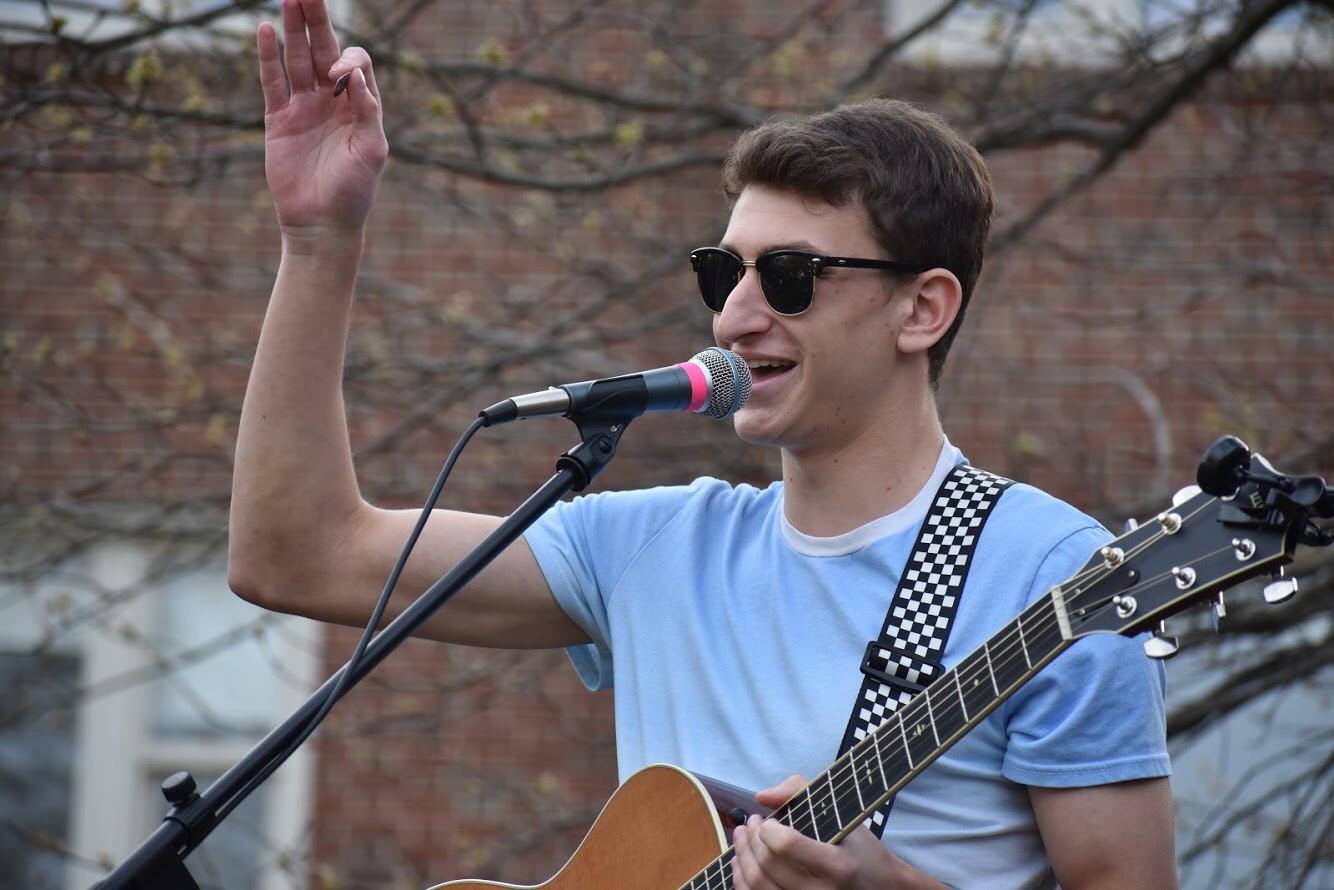 "So it is tough being surrounded by those people who think they are working harder," Miller said. "But I'm also doing really well at Bucknell academically, and I feel like I won't have trouble getting a job after my pursuit if it doesn't work out. That kind of pressure doesn't bother me." 
I sit as an observer at the edge of their conversation, amused as Krohn picks up where Miller left off. 
"You know, because I don't go to all these classes that everyone has, people are always like, 'Oh you're never doing anything- all you do is hang out.' And I'm like, 'No. I'm just not in your class. I don't have class in AC West or Taylor this semester. I'm just not going to see you. We're just not going to bump into each other.'"  
Miller laughs and gives Krohn a nudge as he says, "The amount of times I walk out of the house and someone goes, 'Oh you're going to violin practice! Off to your violin lesson.' Like dude, I dare you to take one of my music theory classes."  
If I hadn't spent an hour with the two already, I wouldn't notice the sense of gravity that quickly dances in the air as Krohn pauses for a moment.  
Breaking from the pensive vacuum of his thoughts, he resumes. 
"I think that it does dissuade a lot of people from doing what they want here. I think that Holden and I kind of have the personalities where it's like, that is pretty funny. It's not going to dissuade us from pursuing it. But I do think that's potentially a negative about Bucknell when trying to become an artist," Krohn said.
When trying to becoming an artist… or an actress, or a philanthropist, or a teacher, or a social worker, or the millions of other careers that sit outside Wall Street, I think to myself.  
___
After that conversation on Oct. 10,  I decide to give the economics, management, accounting and finance majors the mic once more. 
So in sitting down with my peers and classmates, I pose the same question: "What do you think of Holden and Caleb doing what they're doing in a space that doesn't typically allow for it?" 
Despite my vague wording, I've yet to have to elaborate on my question. 
"I think people try to appreciate it. But honestly it's weird how people talk about it. People are always saying to Holden or Caleb, 'Oh, I'm happy or I'm so impressed that you're doing something you love,'" Greenberg said. "Which is like an O.K. thing to say, but it's a little condescending. They're genuine about it, but it's also like, okay what are you doing then?" 
He shifts in the plush library chair and I watch as he searches his mind and reaches for a greater star. 
"I think there's definitely a cultural issue. It's funny because we say Holden and Caleb are taking a different path, but they're not even that far off the path. There's not a lot of people stepping off the path, myself included. There's definitely a culture of conformity here," Greenberg said.
A culture of conformity. The words feel heavy on my tongue as I repeat them to my next interviewee, Julia Stern '20, a sociology major. 
I poke and prod at her brain, and a fire ignites, setting alight a bonfire of reflection on her past three years at the University.  
"I think a Bucknell experience is most valuable when you go against what everyone else is doing. If I'm able to gain the skills to create my own mindset and go against the norms around me, that is when you become the most successful person when you leave Bucknell," Stern said. "Not when you get that J.P. Morgan job or have a 4.0 in Econ or are a D1 athlete and the president of a frat. I mean those are checking boxes. You're really growing when you're doing what no one else is doing." 
It's as though I'm peering into the window of her mind and can see the dots align and connect. 
"So, I think a huge part of being successful is muting out all the noise around you, and that is why Holden and Caleb are incredibly successful," Stern said. 
Checking boxes- "10 things you need to do before your graduate" or "How to find your passion in four years." These things don't exist- at least in my Google search. So, why is it that we still constantly reach for resume-boosters and a guideline?
Murphy, an accounting and financial management major, reflects proudly on his friends' achievements. "I respect them so much. The rest of us are doing what we like, or tolerate, or what will make us money. These are the only two kids at this school, that I know at least, that are doing what they love," Murphy said.
When I think he's done speaking, he continues. 
"If there was one word to describe how I feel about Holden and Caleb, it'd be jealous," Murphy said.
Jealousy. A powerful word that's coated with desire and tainted with regret. 
I acknowledge that the parameter on which one values success is different for all of us, and for some that may fall on the paths that line the University's quadrangle, and for others among the trees in the Grove. 
___
That Thursday, after we left our conversation and the guarded backyard of the blue house that had shielded us from the rest of the University for an hour and a half, Krohn turned to me and asked, "So, why aren't you pursuing journalism?"
In the moment, I laughed at the irony of it all. 
Fun Fact #1: I had started as a creative writing major but switched to a psychology and economics double major and plan to work in a bank next fall. 
Fun Fact #2: 25,000 newsroom jobs have been cut since 2008 according to the Pew Research Center. A decline of 25 percent. For instance, national award-winning reporter Chris Outcalt who can't find full-time work in his field, now moonlights as a part-time bartender in Denver. 
"It doesn't pay the bills," I told Krohn.
(Visited 2,284 times, 1 visits today)