Athlete of the Week: Abby Kapp '21, Women's Basketball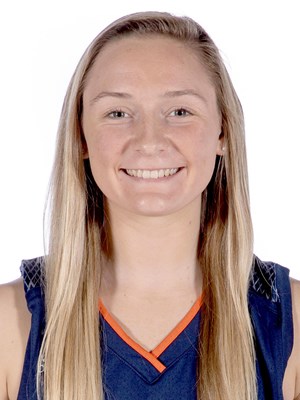 The Bison women's basketball team remains a perfect 7-0 in Patriot League play, and guard Abby Kapp '21 has been instrumental in their success so far this season. The junior from Barto, Pa. is no stranger to success on the court, having won a Pennsylvania state title at Boyertown Area High School in 2017. Kapp says that she had a "gut feeling" that being a student-athlete at the University would be a good fit for her collegiate career, both academically and athletically.
"The feeling I had was definitely right, as I have had the best time here as a student-athlete," Kapp said. Her consistently stellar stats seem to complement the positive experience she has had.
In her first two seasons as a Bison Kapp played in all 66 games, including 38 starts. After her first year, she was selected for the 2018 Patriot League All-Rookie Team. Such recognition, however, did not inspire complacency, and Kapp focused on improving her three-point shooting game between her freshman and sophomore seasons. Her hard work did not go unrewarded. During the 2018-19 season, Kapp shot an impressive 43.3 percent from beyond the arc, ranking her tenth in the nation in three-point field goal percentage and second in the Patriot League in threes per game. Her 74 three-pointers during her sophomore season were the second-most in a single season in Bison program history.
Kapp has so far carried that success into her junior season. She has started all 17 contests, helping to lead the team to a solid 13-4 season record. On Jan. 18 against league rival Lehigh, Kapp put up a career-high 23 points, bringing her season average to 11.0 per game. On the heels of Kapp's stellar performance, the Bison cruised to a 71-50 win to hand Lehigh their first league loss and take sole possession of the first place in the conference. She also put up 14 points in a Jan. 15 victory against American, shooting 4-7 from long range. Kapp filled the stat sheet elsewhere, too, notching six assists and four rebounds.
"Being able to get two wins against two tough opponents in the same week shows the toughness our team possesses as a whole. Being able to contribute to my team's success has always been my goal, so putting together quality performances definitely increases my confidence on the court, and I try to spread that confidence to my teammates," Kapp said.
The model of consistency, Kapp has scored in double-figures in 11 of 17 games this year. She has also tallied three or more three-pointers in 11 contests, ranking first in the Patriot League with a total of 46 this season. Her 144 three-pointers set her fifth in program history, still with much of her junior season and her entire senior year still ahead. Kapp says that her three-point shooting ability and the improvement she has been able to make in that skill is the part of her game she is most proud of.
Kapp's hard work on the court also transfers into the classroom, as she has been recognized on the Patriot League Academic Honor Roll for both of her first two years.
Kapp says that her teammates would describe her as trustworthy, determined, and reliable.  Without a doubt, Kapp embodies these characteristics in her play. She has established herself as one of the go-to players for the Bison, coming up with clutch performances when the team needs them most. "As a team, we try and hold ourselves to a high standard in terms of toughness, togetherness, and intelligence," Kapp says. "We believe if we can accomplish those goals we will be successful on the court."
The Orange and Blue are now 14-4 (7-0) and have a two-game lead in the Patriot League standings. The team will next take the court on Saturday, Jan. 25 at Loyola, aiming to maintain their faultless conference record.
CAREER STATS
84 Games played
1820 Total minutes played
.750 Free-throw percentage
(Visited 488 times, 1 visits today)